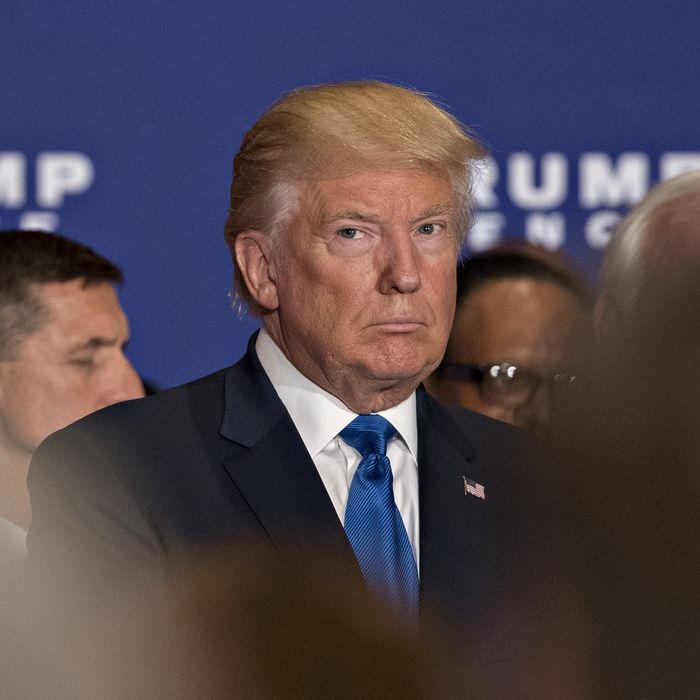 "And I'd be like, why are you so obsessed with me? I know, right? It's so embarrassing."
Photo: Andrew Harrer/Bloomberg via Getty Images
When questions about Donald Trump's failure to disavow birtherism began bubbling up last week, the candidate made a vague statement that unintentionally stirred the pot and his campaign's senior communications adviser Jason Miller released a statement that contained multiple incorrect assertions. The next day, Trump baited the media into covering an infomercial for his new hotel, which culminated in a brief statement in which he repeated the lie that Hillary Clinton is the original birther.

This display of campaign incompetency drew even more attention to the fact that Trump has been peddling a racist conspiracy theory for years, and drove the press to call out his lies more directly. However, as New York's Jonathan Chait explained, it worked: Trump supporters and even some Republican officials are now falsely accusing Clinton of inventing birtherism.

Perhaps that's why the Trump campaign is trying the exact same strategy to discredit reports about the unscrupulous and possibly illegal way he used his charity.

For months, the Washington Post's David Fahrenthold has been digging into Trump's claims about his charitable giving. For months, the Trump campaign has said the reports were incorrect, but it refused Fahrenthold's multiple requests for information that would explain the activities of the candidate and his foundation — most notably, his tax returns, which list exactly what he gives to charity.

Fahrenthold's latest revelation — that Trump used his foundation's money to settle lawsuits against his company — drew attention from other outlets on Tuesday. Hours later Trump added fuel to the growing scandal by bragging about using "other people's money" at a rally in North Carolina. He wasn't talking about the Trump Foundation, but the remark was notable since it was recently revealed that Trump had not donated to his own charity since 2008.

"We're going to get the Gulf states to pay for safe zones [in Syria to house refugees]. We'll lead the project like — it's called OPM. I do that all the time in business. It's called other people's money. There's nothing like doing things with other people's money," Trump said, repeating, "OPM: other people's money."
Meanwhile on CNN, campaign manager Kellyanne Conway suggested that the takeaway from the latest Post story was that Trump donated $100,000 to a veteran's group. In actuality, the city of Palm Beach, Florida, agreed to waive a $120,000 fine over the size of a flagpole at Trump's Mar-a-Lago Club because he agreed to give $100,000 to a veteran's charity. Rather than donating the money from his own bank account, the mogul wrote the check from the Trump Foundation, which at that point was funded almost entirely by "other people's money."

Conway went on to claim that she didn't understand how using Trump Foundation money to settle lawsuits against his business could be construed as Trump using his charity to benefit himself, which is against IRS rules.
"Well the business of course benefited by the lawsuit going away and being settled, right?" said Erin Burnett.
"Well, there are many lawsuits every day against people," Conway responded. "I think that's a bridge too far. I think you're making things up based on facts as they are not reported in this story, which also used a lot of conditional phrasing I would like to point out."

Conway also claimed that Trump has been "incredibly generous" in donating his own money to other's charities, though Farenthold called 250 charities connected to Trump and found he only wrote a personal check to one.

Finally she dismissed Farenthold's reporting, saying he "seems a little obsessed with Donald Trump these days." He responded:

Then at 10:30 p.m. Jason Miller released an absurd statement attacking Fahrenthold and attempting to shift the focus back to the Clinton Foundation, which presents some ethical concerns, but has yet to be fined by the IRS, like the Trump Foundation.

The $2,500 fine Trump paid for using his nonprofit to make a political donation disproves the idea that the foundation "could not" be making improper payments simply because they're on the public record (Trump claims a donation to Florida attorney general Pam Bondi was misreported as a result of a clerical error).

Journalists particularly enjoyed Miller's claim that the Post got "their facts wrong," because in addition to refusing multiple requests for details on Trump's charitable giving, the campaign will not explain which parts of Farenthold's reporting are incorrect:

The statement does contain one line that, if true, is pretty shocking: "The Trump Foundation has no paid board, no management fees, no rent or overhead, and no family members on its payroll." Trump has profited from charity events held at Mar-a-Lago and personally accepted awards for merely taking money from one charity and writing a Trump Foundation check for the exact same amount to another nonprofit. Couldn't he figure out a way to make the foundation pay him rent, too?