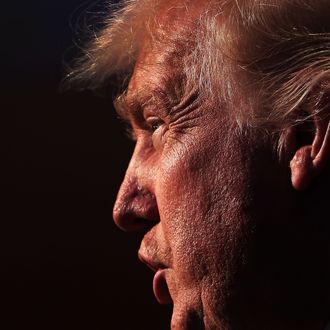 Photo: Spencer Platt/Getty Images
On immigration, his signature campaign issue, Donald Trump's positions are constantly shifting – sometimes even within the same sentence. However, there is one topic where he's standing firm: his horrible 2013 comment on military sexual assaults.

When Matt Lauer asked Trump about the comment at Wednesday's Commander-in-Chief Forum, Trump said it's "a correct tweet," citing his favorite, elusive source. "There are many people that think that that's absolutely correct," he said.

Lauer asked if that means the "only fix is to take women out of the military." Trump replied:

No, not to take them out. But something has to be happen[ing]. Right now part of the problem is nobody gets prosecuted. You have reported — and the gentleman can tell you — you have the report of rape, and nobody gets prosecuted.
Trump didn't elaborate on what exactly has to happen, but he said he wants to "keep the court system within the military." "The best thing we can do is set up a court system within the military," he added. "Right now, the court system practically doesn't exist."
The military already has an elaborate court system – in fact, as Vox explains, part of the problem with the reporting and prosecution of military sexual assault is actually that the court system is too complicated. According to the Pentagon's most recent report in May, there were 6,083 reports of sexual assault involving an active-duty service member in 2015, a slight decrease from the previous year. As NPR notes, of the cases that proceeded to a courts martial, about 76 percent resulted in a conviction.