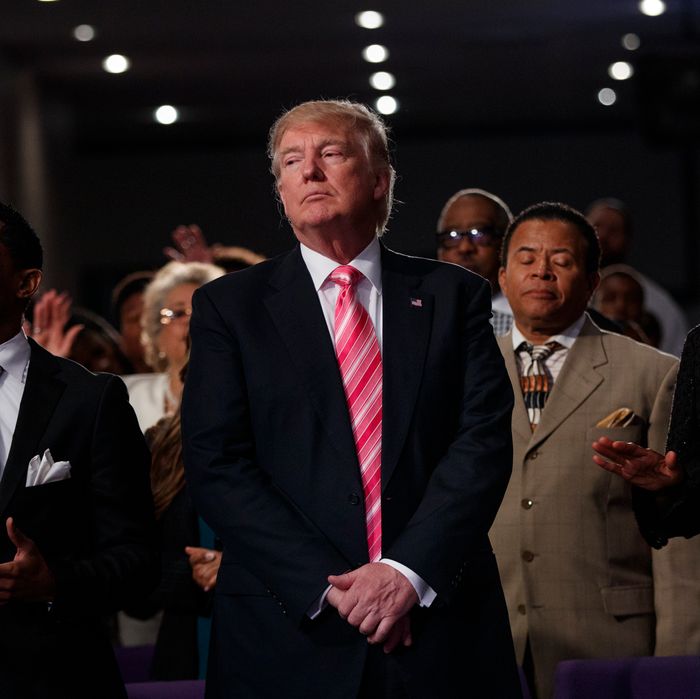 Trump got his political start questioning the legitimacy of America's first black president, and once defended his family's real-estate business against federal discrimination charges.
Photo: Evan Vucci/AP
Donald Trump visited Detroit on Saturday to finally test his new outreach to black voters with actual black voters, as opposed to the near universally white audiences he usually addresses about black Americans' problems. The focal point of the day was a trip to one of Detroit's black churches, Great Faith Ministries International, where he attended a ticketed service and gave an interview to Bishop Wayne T. Jackson for the bishop's television program. It was, according to Jackson, the first time Trump had ever been to a black church. But while Trump told the congregation of about 100 people that he had come to Detroit to listen and learn, it's not entirely clear how much listening and learning the candidate made time to do — and as Trump's mostly disbanded Hispanic advisory council can now attest, Trump listening and Trump learning are often two very different things.
Trump addressed the congregation for about 12 minutes, emphasizing that he was reading a statement "from the heart" that he had written himself a few days prior. This wasn't supposed to happen, as Jackson had originally said (and Trump had agreed) that the candidate would only be able to offer a short greeting. Then on Saturday, top-level Trump aides reportedly pressured Jackson to let Trump deliver his speech, since it would "really be a blessing."
Ultimately, the address featured a greatly subdued version of Trump, and one congregant told Politico that Trump's speech sounded like "a weak little whisper" compared to his normal appearances. Beforehand, the candidate sat in the front row of the church, flanked by Ben Carson and Omarosa Manigault, where he clapped and swayed along with the service, and press-pool reports indicate the crowd received Trump warmly, though outside the church, where about 30 people were protesting the visit, was another story:
In his remarks, Trump noted his appreciation for black churches and how they have been "the conscience of our country," and that the "African-American faith community has been one of God's greatest gifts to America and to its people." He also told attendees that "we're all brothers and sisters" created by God, and that he understood that black Americans have "suffered from discrimination and that there are many wrongs that must still be made right and they will be right."
On the other hand, Trump did not repeat one of the core arguments he has made to white audiences over the past few weeks: that black voters have nothing to lose by supporting him, since their desperate lives will likely end in gunfire as they walk through the blighted, economic wasteland of their communities. He did, however, roll out what has become a classic, context-free trope of Republican black outreach by reminding the congregation that "a lot of people don't realize" that Abraham Lincoln was a Republican too. He also said Detroit would be rebuilt and that America needed a "civil-rights agenda for our time," which would consist of basic political campaign promises like good schools, public safety, and well-paying jobs, since "nothing is more sad than when we sideline young black men with unfulfilled potential, tremendous potential."
With regards to the interview with Bishop Jackson, Trump said in his remarks that it went "fantastic" and insisted, "I didn't really know what I was getting into," even though it was reported that the Trump campaign had gotten the questions from Jackson in advance and prepared a script of answers for Trump to then follow. The interview won't be posted for a few days, so it's not clear if the scripted exchange is what happened or not, and after the preprepared script was published, Jackson told CNN he would come up with some new questions.
At the end, Trump closed with a Bible passage, which he improbably implied he was already familiar with (while also oddly suggesting that his typical campaign audiences aren't as familiar with the Bible):
I'd like to conclude with a passage from 1 John, Chapter 4. You know it? See, most groups I speak to don't know that. But we know it. If you want, we can say it together: 'No one has ever seen God, but if we love one another, God lives in us and His love is made complete in us.' And that is so true.
Trump even came away with a few gifts, as he was eventually draped in a Jewish prayer shawl, which Bishop Jackson told Trump would help him through the adversities of his campaign, and he also gave Trump a pair of Bibles for him and his wife to study. "I feel better already," Trump responded.
Trump then left the church, and though his campaign had originally said he would tour local neighborhoods, what happened instead was a drive to a several-minute photo-op outside Ben Carson's childhood home, which is currently occupied by a Hillary Clinton supporter. (Trump reportedly told her, "Your house is worth a lot of money," as a result of Carson having once lived there, and the campaign will now apparently be sending her a copy of Trump's book, The Art of the Deal, according to the New York Times.)
Ben Carson, for his part during the brief stop, gave a live interview to CNN during which he walked away for a time because he was worried about his luggage:
After the short trip down Carson's memory lane, Trump then headed back to the airport, though he told the Detroit News that he would return at some point during his campaign to visit Flint, Michigan, a majority black city that has recently suffered a terrifying outbreak of lead poisoning as a result of city and state mismanagement. Previously, when Flint's lead-contamination story was first attracting national attention, Trump had declined to comment on the problem.