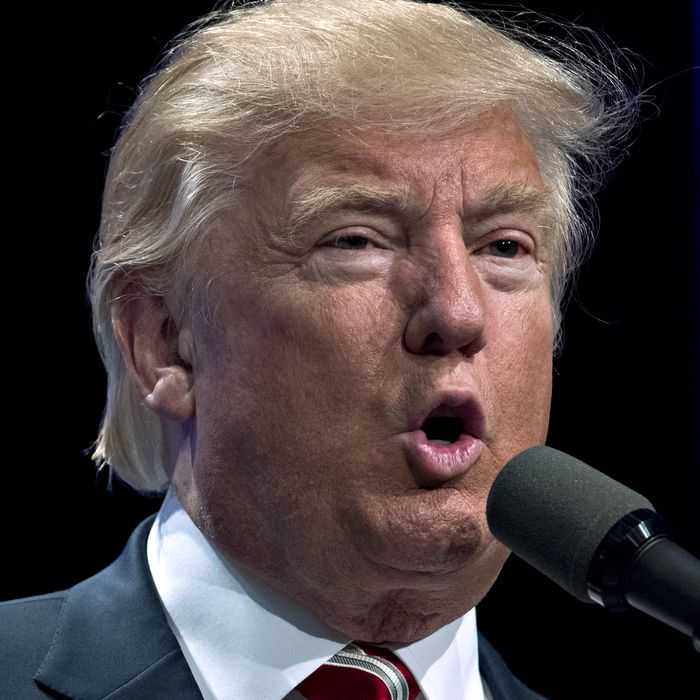 A man who has "a great relationship with the blacks."
Photo: Andrew Harrer/Bloomberg via Getty Images
On Tuesday, a Charlotte police officer shot and killed Keith L. Scott, a 43-year-old African-American man. At the time of his death, Scott was either reading a book — or waving a gun at cops, depending on whose account of the incident you chose to believe. The city's police chief has said that a video of the shooting does not establish "definitive, visual evidence that would confirm that a person is pointing a gun." However, the department refuses to release said video to the public. For the past two nights, protests have raged in the streets of Charlotte, with demonstrations occasionally giving way to violence.
Given this sequence of events, you might think that the unrest in Charlotte was caused by outrage over Scott's killing, and the long history of state violence against African-Americans that preceded it.
But on Thursday, the Republican nominee suggested that the unrest had little to do with police brutality in black communities — and a lot to do with all of the narcotics in black people's veins.
"If you're not aware, drugs are a very, very big factor in what you're watching on television," Trump explained to a crowd of supporters in Pittsburgh, Pennsylvania, in reference to cable news coverage of the protests.
According to Politico's Eli Stokols, this was one of the few ad-libbed lines in Trump's remarks. Had the GOP nominee only stuck to the teleprompter, he might have gotten through an entire speech on crime and police violence without saying anything conspicuously racist.
"There is no compassion in tolerating lawless conduct. Crime and violence is an attack on the poor, and will never be accepted in a Trump administration," the mogul said near the beginning of his remarks, folding his law-and-order stance into his "black outreach" message. "Our job is not to make life more comfortable for the violent disrupter, but to make life more comfortable for the African-American parent trying to raise their kids in peace, to walk their children to school and to get their children a great education. We have to cherish and protect those people."
When teleprompter Trump addressed the issue of police shootings, he offered platitudes that wouldn't be out of place in a speech by Barack Obama.
"Police are entrusted with immense responsibility, and we must do everything we can to ensure they are properly trained, that they respect all members of the public, and that any wrongdoing is always vigorously addressed," Trump declared.
All in all, this is about as fair-minded a take on police violence as you're going to get from a Republican politician in 2016 America.
If only Trump hadn't taken that moment to speak from his heart.