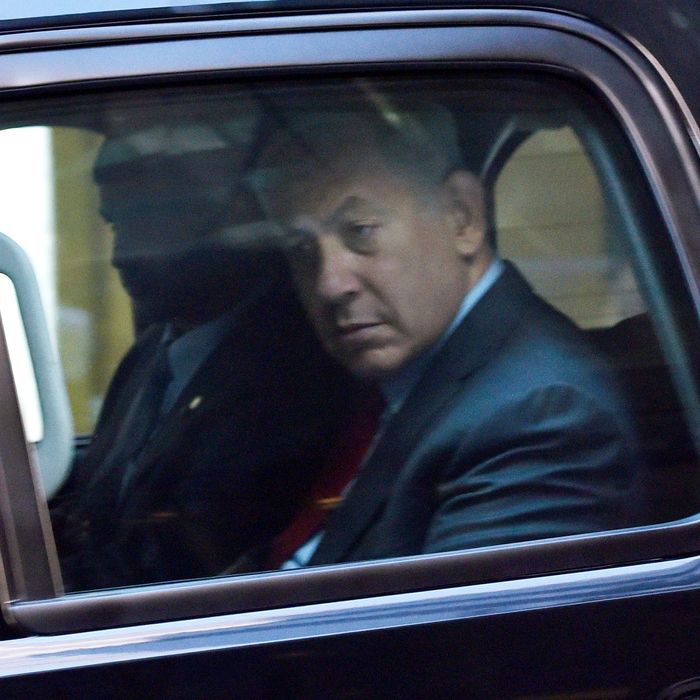 Israeli prime minister Benjamin Netanyahu leaving Trump Tower.
Photo: Mandel Ngan/AFP/Getty Images
Donald Trump met with Israeli prime minister Benjamin Netanyahu at Trump Tower on Sunday where, according to the Trump camp, the two discussed "military assistance, security and regional stability."
Following the meeting, Donald Trump announced that under his presidency the United States would recognize Jerusalem as the capital of Israel, which would be a radical break with more than two decades of American foreign policy.
The two politicians spoke for nearly 90 minutes and were joined by Israel's ambassador to the United States, Ron Dermer, and Trump's son-in-law and advisor, Jared Kushner.
While the meeting was closed to the press, Trump has acknowledged that he consulted with Netanyahu about Israel's border wall and talked about their shared opposition to the Iran nuclear deal.
Trump would not say if they discussed his planned ban on Muslim immigration, which Netanyahu has been openly critical of.
While Netanyahu has issues with Trump's plan for fighting terrorism, Trump is a big admirer of Israel's strategy. He infamously praised the country's use of profiling during an interview with Fox News, saying that "in Israel they profile," and "they've done an unbelievable job, as good as you can do."
Following their conversation, Trump said that he agreed with the Israeli leader that "peace will only come when the Palestinians renounce hatred and violence and accept Israel as a Jewish State."
While Israel has long claimed Jerusalem as its capital, East Jerusalem is still claimed by the Palestinians and it's the official policy of the United States not to recognize Jerusalem as belonging to any country (America keeps its embassy in Tel Aviv). Congress has repeatedly tried to move the embassy to Jerusalem but has been blocked by successive presidents for more than two decades. The dispute finally went to the Supreme Court in 2015, which ruled in favor of the president.
Trump hopes to change that.
A statement released by the Trump campaign on Sunday said that Trump has "acknowledged that Jerusalem has been the eternal capital of the Jewish People for over 3000 years, and that the United States, under a Trump administration, will finally accept the long-standing congressional mandate to recognize Jerusalem as the undivided capital of the State of Israel."
It appears the Trump-Netanyahu relationship has warmed considerably since since the GOP nominee canceled a planned 2015 trip to Israel over the leader's comments about his Muslim ban. After their meeting, the Israelis released a statement saying, "Prime Minister Netanyahu thanked Mr. Trump for his friendship and support for Israel."
Netanyahu also plans to meet with Hillary Clinton later in the evening on Sunday.