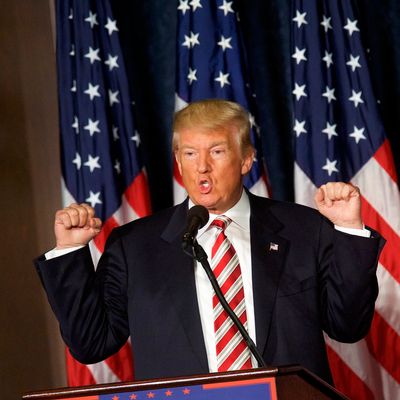 Health guru.
Photo: Mark Makela/Getty Images
If the American people make a terrible mistake this November, Donald Trump will become the oldest man ever elected to the presidency.

However, any worries about the 70-year-old mogul's physiological fitness for office were dispelled last December, when Trump's personal doctor summarized his patient's condition thusly: "If elected, Mr. Trump, I can state unequivocally, will be the healthiest individual ever elected to the presidency."
Or, at least, those worries were dispelled — until some cynical reporters cast aspersions on the professional judgement of Dr. Harold Bornstein. In a late-August interview with NBC News, Bornstein explained that he had written his glowing assessment of Trump's "astonishingly excellent health" in just five minutes, while a limo sent by the candidate waited outside his office.
Instead of interpreting Bornstein's speed as evidence of his diagnostic prowess, the lame-stream media accused the visibly trustworthy doctor of rushing — or even fabricating — his assessment.
To quell any doubts about his healthfulness, Trump has pledged to release his full medical records (one would think that a mere look at the candidate would more than suffice).
The GOP standard-bearer has yet to set a timetable for those records' release. But on Friday, Politico reported that he will reveal his "personal health regimen" on the television program of esteemed physician Dr. Mehmet Oz next week.
Assuming Dr. Oz affirms the soundness of Trump's health practices, any remaining concerns about the Republican nominee's vitality should be put to rest — a 2014 study by the British Medical Journal found that nearly 50 percent of the medical information on Oz's show was based in genuine scientific facts. In other words, if Oz were a baseball player, he'd be batting .500 — the highest average in the history of the sport!