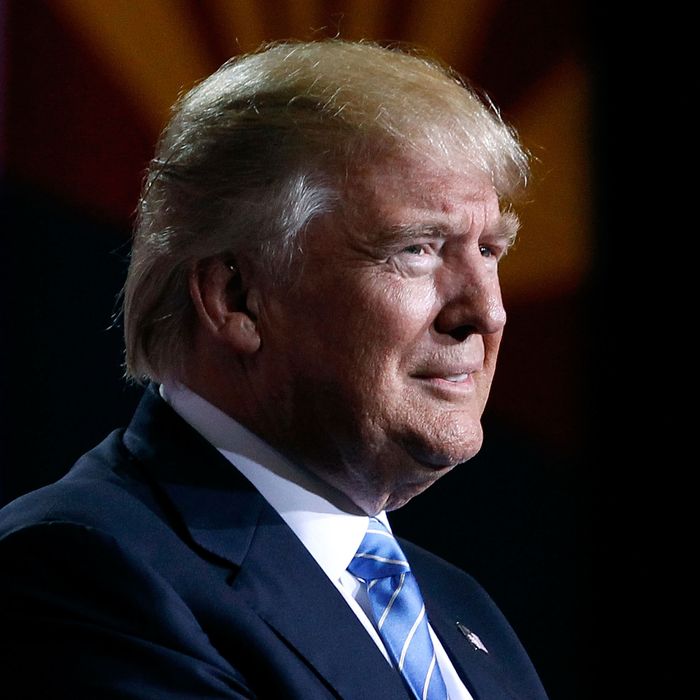 This man has a great relationship with "the blacks."
Photo: Ralph Freso/Getty Images
Donald Trump will visit an African-American church in Detroit this weekend and sit for an interview with its pastor. For some strange reason, his campaign wants to suspend its "let Trump be Trump" strategy for the duration of that visit.
The GOP nominee's campaign requested to see Bishop Wayne T. Jackson's questions in advance. Then it prepared an eight-page script, detailing how it hopes Trump will answer them, the New York Times reported Thursday night.
The campaign's reluctance to let Trump shoot from the hip when discussing race in America is, of course, understandable. The Republican standard-bearer may think he has a "great relationship with the blacks," but some recent polls have put his support in the community at 0 percent. So far, his main pitch to the African-American community is that they have "nothing to lose" in switching their partisan loyalties, since all black people "have no jobs" and can't "walk down the street" without getting shot.
Judging from its prepared script, however, the mogul's campaign doesn't have a problem with its candidate condescending to black voters — the campaign just wants him to do so through the sterile, focus-grouped rhetoric of a conventional Republican.
Asked what his administration would do to ease "racial tension" in America, Trump is supposed to reply:
Our best hope for erasing racial tensions in America is to work toward a color-blind society. In business, we hire, retain and award based on merit. In society, however, we have divisions that can only be eliminated if we have equal opportunity and then equal access to programs and institutions that will lift all people in the country.
Here, Trump's handlers posit the ideal of a "color-blind society" — and then immediately illustrate the blindness of those who espouse that ideal. There is copious sociological research demonstrating that employers do, in fact, discriminate on the basis of race in hiring. Or, if Trump's staffers prefer anecdotal evidence of racism in the workplace, they could have just asked their candidate about his opinions on black workers.
Trump goes on to suggest that equality of opportunity can best be achieved through supply-side tax cuts, immigration enforcement, and school vouchers. Later in the interview, Jackson presses Trump to say what he would do to address the unique challenges facing black Americans. Trump is instructed to reply that the best way to fight racism is to pretend that it does not exist:
If we are to Make America Great Again, we must reduce, rather than highlight, issues of race in this country. I want to make race disappear as a factor in government and governance. Every individual, regardless of race or ethnicity, must have access to the full array of opportunities in America.
The script ends with Trump boasting that a recent poll put him at 8 percent with African-Americans, which is the only moment in which he sounds remotely like himself, rather than like Mitt Romney's less charismatic twin.
According to the Times, Trump had planned to make this scripted interview his sole appearance at the church, opting not to attend an actual service, where there would be black people who hadn't given him advance notice of what they might say to him. However, after the Times report was published, the GOP nominee's campaign informed the paper that Trump will address the congregation for "five to 10 minutes." He then plans to tour a series of neighborhoods in the city, with Detroit native and amateur Egyptologist Ben Carson.