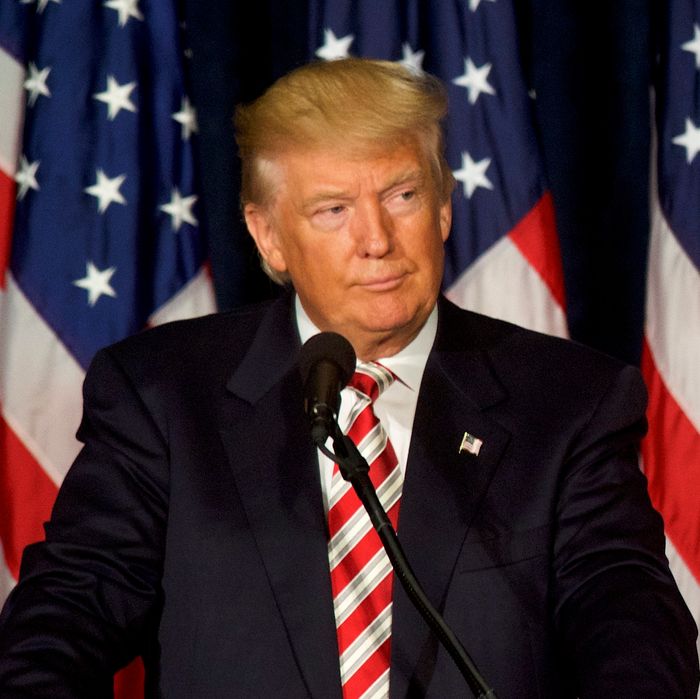 Add the Donald J. Trump Foundation to the list of things the candidate prefers not to discuss.
Photo: Mark Makela/Getty Images
False equivalence has been a huge issue in the 2016 campaign, with many in the media acting as if, for instance, there's basically no difference between Donald Trump and Hillary Clinton when it comes to race because she presented a detailed list of his discriminatory remarks and behavior, and he called her a "bigot." The latest example: The Donald J. Trump Foundation has received far less scrutiny than the Clinton Foundation, though there is concrete evidence that Trump repeatedly lied about his foundation, violated IRS rules, and used the nonprofit to benefit himself.

That may be changing, thanks in part to New York's attorney general Eric Schneiderman. Tuesday on CNN, Schneiderman announced that his office is investigating Trump's foundation "to make sure it's complying with the laws governing charities in New York." He added that part of his job is to regulate the activities of nonprofits in the state, and "we have been concerned that the Trump Foundation may have engaged in some impropriety from that point of view."

The Trump campaign called the investigation a "left-wing hit job" and characterized Schneiderman as "a partisan hack who has turned a blind eye to the Clinton Foundation for years and has endorsed Hillary Clinton." As the New York Times explains, Schneiderman is indeed a Clinton supporter, and he's also tangled with Trump in the past. The attorney general filed one of several pending lawsuits accusing Trump University of fraud.

However, journalists have already shown that the Trump Foundation was engaged in some level of "impropriety." Most notably, owing to the excellent investigative work of the Washington Post's David Fahrenthold, Trump had to pay the IRS a $2,500 fine this year. Fahrenthold discovered the foundation donated $25,000 to a campaign group connected to Florida's attorney general, though it's illegal for nonprofits to make political contributions. Here are some of the other concerning revelations about the Donald J. Trump Foundation, which have flown under the radar until now.

Trump Doesn't Give Any of His Own Money to His Foundation
Trump founded the charity in 1987 to give away some of the proceeds from The Art of the Deal. Through 2006 he was the primary donor, giving a total of $5.4 million. Then, as Fahrenthold reports, he radically retooled the foundation to allow him to redistribute the charitable donations of others and reap the benefits for himself. While the foundation has continued to collect millions in donations, Trump has not personally donated anything since 2008.

Trump did not make the foundation's beneficiaries aware of his revolutionary and highly unusual approach to charity. For example, in 2009 and 2010, Trump solicited donations totaling $150,000 from the Charles Evans Foundation, saying he was raising money for the Palm Beach Police Foundation. Trump then gave $150,000 to the Florida police charity, presenting it as his own money. He then accepted an award from the charity for his "selfless support" of their efforts.

Trump and his surrogates have repeatedly insisted that he's given as much as $100 million to charity, so perhaps he just shifted his donations from the Donald J. Trump Foundation to other worthy causes? If so, there's no evidence of it. The Post contacted more than 250 charities and only one said it had received a personal donation from the mogul. (Trump campaign spokeswoman Hope Hicks denied the Post report, saying the candidate has given away tens of millions of dollars" — but she supplied no proof.)
It appears that any time in the last eight years that Trump publicly promised to give to a Celebrity Apprentice contestant's charity or donated to an organization holding an event at one of his properties, he was actually contributing someone else's money.

Trump Profits From His Foundation – and Apparently Used It to Buy Himself Gifts
IRS rules prohibit "self-dealing," which means nonprofit officials using their charity's money to buy things for themselves. The Trump Foundation has reported in IRS forms that no funds were used to "furnish[ed] goods, services or facilities" to any of its officers.

Yet Trump famously won a 2012 charity auction for a Denver Broncos helmet and jersey autographed by quarterback Tim Tebow with a bid of $12,000. Then he paid the Susan G. Komen organization, the breast-cancer charity that hosted the event, using a check from the Trump Foundation. It's unclear what became of the Tebow gear, which is now worth only a few hundred dollars, but if they're still in Trump's possession that's a violation of IRS rules.

The Post recently revealed that in a similar incident, Melania Trump bid $20,000 for a six-foot-tall painting of her husband during a 2007 charity event. The Trump Foundation sent out a check, and according to the painter, the portrait is now at one of Trump's golf courses.

But the benefits Trump reaps from other people's charity go beyond awards and the odd piece of sports memorabilia. Mar-a-Lago, Trump's resort in Palm Beach, Florida, is a popular venue for charity events. The candidate has pointed to this as proof of his largesse, saying, in 2011, "The place has been amazing, the kind of money we raise on a weekly basis, and I just believe that you have to give back and if you don't give back, you're not being honest with yourself."
BuzzFeed reports that while Trump sometimes pledges money to the charities holding events at Mar-a-Lago through his foundation, he actually profits from the events by charging the groups hundreds of thousands of dollars to use the venue.

Trump May Have Used Foundation Money for Political Purposes
The Donald J. Trump Foundation has almost no infrastructure — the board consists of the candidate, three of his adult children, and one Trump Organization employee — and no consistent charitable mission. The foundation makes a few dozen donations per year, and many are related to to Trump's business — or political ambitions.

Tying everything together, Yahoo's Michael Isikoff reports that, in 2014, the Trump Foundation gave $100,000 to Citizens United Foundation, the conservative group that was financing a federal lawsuit against Eric Schneiderman. A year earlier, the New York attorney general had filed a lawsuit against Trump University. Tax filings show that the donation was the Trump Foundation's largest that year by far, and it had never given money to Citizens United previously. A judge dismissed the Citizens United suit last month, saying he found "not a single plausible claim upon which relief can be granted."
The donation that's drawing new scrutiny to Trump's foundation was also linked to Schneiderman's Trump University lawsuit. In September 2013, four days after the office of Florida attorney general Pam Bondi said she was considering joining the New York probe, an organization connected to her reelection campaign received a $25,000 donation from the Trump Foundation. A short time later, Bondi's office said it would not sue Trump, sparking pay-to-play accusations in the local media.

Trump and Bondi have both denied that the money had anything to do with her decision, but either way the Trump Foundation violated IRS rules by making a political donation. Trump also failed to properly report the donation to the IRS, which the Trump team claims was a clerical error. After the national media caught wind of the issue this year, Trump paid the IRS a $2,500 penalty, and reimbursed the $25,000 to the foundation from his own pocket (technically, it was his first gift to his own charity in years).

The Associated Press also reported that in 2013 and 2014 the Trump Foundation donated a total of $35,000 to the gubernatorial campaign of Texas attorney general Greg Abbott. In 2010 the state's consumer protection division sought permission to pursue a $5.4 million lawsuit against Trump University. Instead, the company agreed to cease operations in Texas and the lawsuit was dropped.
John Owens, the former deputy director of the Texas consumer protection division alleged recently that "the decision not to sue [Trump] was political." However, David Morales, the state's former deputy attorney general, said Abbott had no input in his decision not to proceed with the lawsuit. Governor Abbott's office has noted that Trump did not give to Abbott's reelection campaign for attorney general in 2010, or speak to Abbott before 2013. As the Post noted, $35,000 was "0.07 percent of the total Abbott raised for his election in 2014, a portion that seems unlikely to warrant committing a crime to acquire."
This week the liberal watchdog group Citizens for Responsibility and Ethics in Washington said it intends to file an IRS complaint against the Trump Foundation, arguing that the Bondi donation constitutes "self-dealing." Meanwhile, Democrats on the House Judiciary Committee have signed a letter calling on Attorney General Loretta Lynch to launch a federal investigation into the Bondi donation.

The Clinton Foundation raises ethical concerns that are certainly worth addressing. However, the media has been investigating the Clintons' charitable efforts for years, and the most damning thing they've discovered is that some people thought they might be able to buy influence with the secretary of State — so far, there's no evidence that donors were actually granted any favors.

If just half of that energy were put toward the Donald J. Trump Foundation — which is demonstrably shady and is not directly saving people's lives — we would know far more about Trump's charitable giving, a key aspect of the brash but benevolent billionaire persona he's presenting to voters. Or at the very least, we'd have the satisfaction of knowing what happened to that grossly overpriced Tebow gear.

This post has been updated with more information about the Trump Foundation's donation to Greg Abbott at the request of the governor's office.