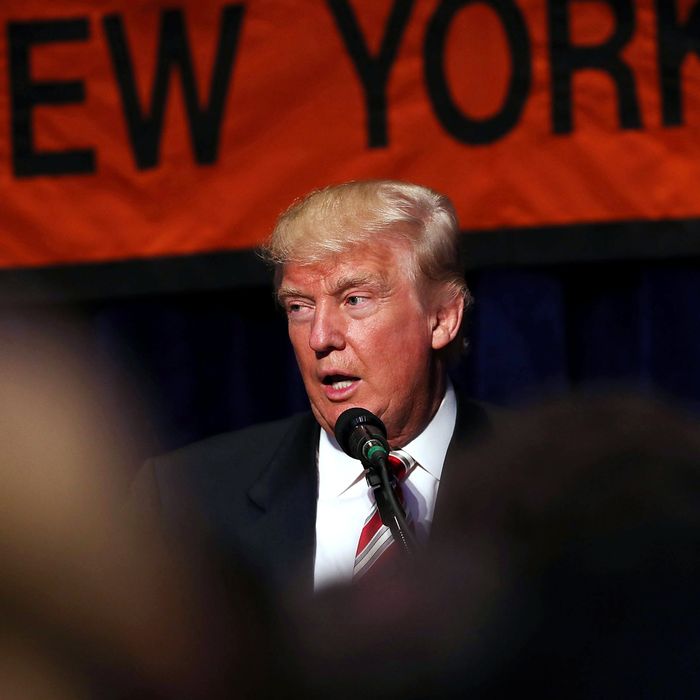 Trump says it will "shock people" when he carries New York. That part of his boast is true.
Photo: Spencer Platt/Getty Images
In a career and a campaign sagging with the weight of serial mendacity, it hardly stands out that Donald Trump makes empty boasts about his popularity and the likelihood he will win the presidency. But there are examples of this braggadocio that are borderline pathological, notably Trump's insistence that he is going to carry New York in November.
The Empire State was on the Trump campaign's original general-election target list back in May. He and his surrogates made happy talk about a New York win during the convention, too. And Trump repeated this assertion at the New York Conservative Party convention this week:
"We are going to play so hard and win. We are going to win this state … It's going to shock people, and by the way, you know if we win this state, it's over."
It would shock people, all right, to the point of making a good prima facie case that Trump's Russian buddies have indeed hacked the election.
The last time New York went Republican in a presidential contest was during the 49-state Reagan reelection landslide of 1984. Since 1992 Democrats have carried the state by a minimum of 16 points and a maximum of 29; Obama won by 28 points in 2012.
There are 16 Trump-versus-Clinton head-to-head polls of New York taken this year in the RealClearPolitics database. Hillary Clinton has led all of them, by margins ranging from 12 points (a Quinnipiac poll in July) to 30 points (a Siena poll in August). The RCP average gives Clinton a 19-point lead. That is not close. Clinton leads by 17 points in the average of four-way polls that include Gary Johnson and Jill Stein. That is not close, either. No one, but no one, discussing "battleground states" includes New York — except for Trump.
You have to figure he knows all this. Perhaps someone in his entourage has even advised him to stop predicting that he is going to win a state he is manifestly going to lose. Is it just a home-state-pride thing? Maybe, but you don't hear Hillary Clinton predicting she's going to win her adopted state of Arkansas, do you?
If Trump wins the presidency, it will likely be forgotten that he lost New York after all. If he is defeated on November 8, New York will be just another state in a long losing column, and not even close enough to become the object of the inevitable Trump campaign claims of a "rigged" election.
Perhaps if Trump somehow becomes president, he can carry his home state in his reelection bid. You know, like he's going to win 95 percent of the African-American vote: in his dreams.