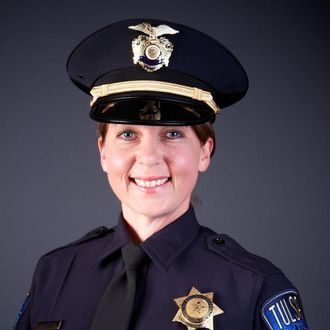 Officer Betty Shelby.
Photo: Tulsa Police
Tulsa police officer Betty Shelby has been charged with felony first-degree manslaughter for the killing of Terence Crutcher, a 40-year-old black man. "I do not know why things happen in this world the way they do," Tulsa County prosector Steve Kunzweiler said, when announcing the charges.
The fatal shooting happened last Friday, and the incident was caught on police dash-cam video and a helicopter overhead. The recordings appeared to show Crutcher following officers' instructions, when one of the officers raises her gun and Crutcher crumples to the ground. An attorney for Shelby, who has since been placed on administrative leave, has said that Crutcher was uncooperative and behaving "erratically," as if possibly on drugs. Shelby also believed Crutcher may have been reaching into his car window to possibly get a weapon. Tulsa police did find "a vial of PCP" in Crutcher's car after his death, and are reportedly waiting on a full toxicology report.
The Justice Department has also initiated a civil-rights investigation into the fatal Tulsa shooting. The announcement of charges comes as Charlotte, North Carolina, is engulfed in violent protests following the fatal shooting of a black man, Keith Lamont Scott. One person was shot and seriously hurt overnight, and the governor has declared a state of emergency.