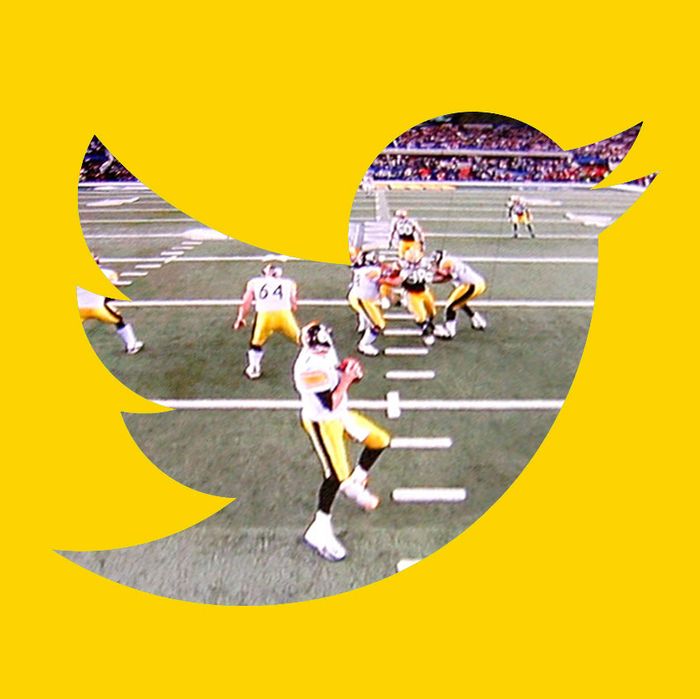 A big cover story in Fast Company this week outlines Twitter's latest vision for itself: Live video! And while that might sound familiar if you've read anything about Facebook's attempts to sell livestreaming, Twitter's deals with enormous corporate partners like the NFL, and its unique cultural position as the world's largest public chat room, make the initiative sound less like a doomed attempt to capitalize on the immediacy and spontaneity of Snapchat — and more like a potentially quite lucrative attempt to refashion itself into a new kind of television.
The new focus on video is the result of years of partially realized potential for Twitter, which for all of its struggle acquiring and retaining users, is still the de facto online location to talk about cultural events in real time — the basic portal to the internet for a large number of influential people. Twitter's problem, as FastCo frames it, has been its attempts to chase Facebook as a social network for people to talk to their friends: The perception was (and still is) that Twitter is where you find out what people you know are up to, and what they had for lunch.
But this image of Twitter clashes with its status as a default exclusively-public platform — one where individuals can directly contact strangers, and broadcast to large groups of people they've never met. And, as nearly any social network will tell you, the novelty of "default public" has worn off in an age when people can easily become the target of mob harassment, and lose jobs and opportunities because of ill-timed statements made unknowingly publicly.
Twitter has tried to pick up on the large market for private communication with group direct messaging, but the social network can seem redundant for talking to friend in a world with Snapchat, Facebook, Apple Messages, Kik, and WhatsApp. And, maybe more important, Twitter's default public mode is its greatest strength in terms of cultural cachet. In fact, Twitter wasn't even the highest bidder for the NFL streaming rights. The league still recognized its potential.
Of course, it's also its greatest weakness, in terms of user willingness to contribute. Snapchat already sees more user activity than Twitter. This summer, Twitter launched a new ad campaign, the thrust of which was that you don't have to tweet to use Twitter.
The implementation for Twitter's livestreaming content should be familiar to anyone who watches Twitch or has had Facebook Live thrust upon them. (A window showing the video, and a running feed of comments and quips off to the side.) It's been quietly testing this out with other sporting events (and the Suicide Squad premiere). Rather than supplement their main feed with a news ticker, Twitter has taken the inverse route of developing a very popular chyron, and then figuring out what to layer it on top of.
The new focus on live video seems progressive and antiquated all at once: On the one hand, it's a live, interactive, open experience, on your computer! On the other hand, it's just … television, with a scrolling chyron written by amateur comedians, for free. Certainly, the business model is old-school: Twitter is selling ad spots for its NFL broadcasts, just as one would sell a commercial on TV.
The implication running through all this is that Twitter is trying build a business that relies less on user-generated content than on the more simple concept of viewership. It's part of why it reclassified its iOS app in the News category. Twitter wants users to know that it's okay to be passive and uninvolved.
This points Twitter in a different direction than, say, Facebook, which is said to be fretting about the declining rates at which users are posting original content. Guiding a user's Twitter experience is clearly more of a focus than getting people to actively continue posting. Its Moments section aggregates threads and trends into bite-size chunks (anecdotally, the most active users don't seem to like the simplistic Moments, but it's not for them). Giving users a way to see sports chatter on Twitter without having to actively seek it out and compile their own feeds could be a huge opportunity to spur viewership, if not actual activity. It's an odd middle ground — the assumption is usually that if you're logged into a social network, you're posting or liking or clicking around on your own accord — but the next era on Twitter is more focused on lurking. It might become a type of low-anxiety social network. Twitter: You don't have to do anything except hang out.