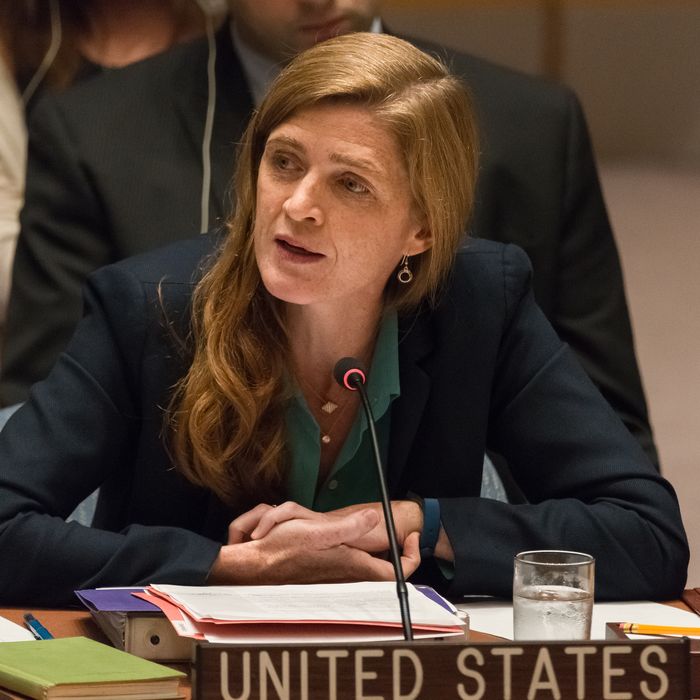 U.S. ambassador to the United Nations Samantha Power.
Photo: Pacific Press/LightRocket via Getty Images
United States, Britain, and France called for a meeting of the United Nations Security Council on Sunday to discuss the worsening violence in Aleppo over the weekend. The meeting quickly descended into hostility as Russia and the other member-states traded barbs.
U.S. ambassador to the United Nations Samantha Power had especially harsh words for Russia, saying that "what Russia is sponsoring and doing is not counter-terrorism, it is barbarism," and telling the 15-member council that "instead of pursuing peace, Russia and Assad make war. Instead of helping get life-saving aid to civilians, Russia and Assad are bombing the humanitarian convoys, hospitals and first responders who are trying desperately to keep people alive."
For its part, Russia hardly offered a more hopeful prognosis of the situation on the ground: "[I]n Syria hundreds of armed groups are being armed, the territory of the country is being bombed indiscriminately."
"Bringing a peace," said Russian U.N. ambassador Vitaly Churkin, "is almost an impossible task now because of this."
Britain's U.N. ambassador, Matthew Rycroft, joined the U.S. in its condemnation of Russia: "The regime and Russia have … plunged to new depths and unleashed a new hell on Aleppo. Russia is partnering with the Syrian regime to carry out war crimes."
Rycroft joined diplomats from the United States and France in walking out of the council chamber when it was Syrian U.N. ambassador Bashar Ja'afari's turn to speak.
"Any political solution can only be successful by providing the requisite conditions through intensified efforts to fight terrorism," Ja'afari said. "The real war on terrorism has never started yet. The advent of Syrian victory is imminent."
A tentative cease-fire was effectively scuttled last Monday following the bombing of an aide convoy. Since then, Syrian government forces with the support of Iran and Russia have engaged in what people on the ground have described as a "scorched earth" approach in retaking Syria's largest rebel-held city, Aleppo.
The regime has been accused of conducting indiscriminate bombing campaigns and using barrel bombs, which flattened buildings in rebel-held districts. On Saturday, a pumping station was bombed, cutting off water to rebel-held areas, and another was shut off in retaliation. The U.N. now claims that almost 2 million people have been left without water.
Over the weekend, Syrian government forces were able to take control of Handarat, a major Palestinian refugee camp north of Aleppo, but by Sunday, rebels had retaken it. And rebels have accused the government of burning the camp with phosphorous bombs in retaliation.
The Syrian Observatory for Human Rights says in Saturday's bombings alone 45 people were killed, including ten children.
The bombings only intensified on Sunday. Activists from the Aleppo Media Center reported that 85 people were killed over the course of the day, with more than 300 injured. The casualties left Aleppo's understaffed hospitals overwhelmed, and there are reportedly only 20 doctors left in Eastern Aleppo.
Even before the latest round of bombings, Unicef deputy director Justin Forsyth told the BBC on Saturday, "Aleppo is slowly dying, and the world is watching, and the water is being cut off and bombed — it's just the latest act of inhumanity."