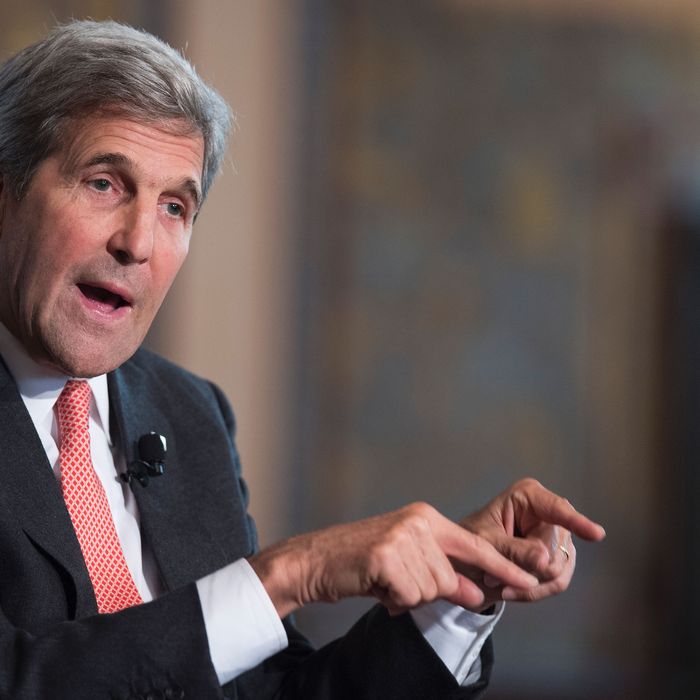 Kerry's cease-fire is coming undone.
Photo: Jim Watson/AFP/Getty Images
American military officials are claiming that an air strike Saturday in Syria's Deir al-Zour Province — which, according to the Russian government, killed more than 60 Syrian government troops — was a mistake. American military officials say the pilots believed that they were targeting ISIS military installations.
The United States claims it ended the attack immediately after Russia alerted coalition officials that they were hitting Syrian troops, 55 minutes into an operation set to take 67 minutes. The U.S. government has sent its regrets to the Syrian government through Russia, but Syrian leaders claim that the attack was not an accident at all, and insist that it confirms their long-held view that the United States is actively supporting ISIS in a bid to oust Syrian president Bashar al-Assad.
The timing really couldn't have been worse. A recent cease-fire negotiated by John Kerry and his Russian counterpart only officially started last Monday and was already on shaky ground.
Both Russia and Syria tried to spin the air strike to their advantage. Russia claimed the strike occurred as the result of America's failure to share intelligence, saying that the U.S. "not only turned out to be unable to give an adequate explanation of what happened, but also tried, as is their custom, to turn everything upside down." And the Syrian government reported that the American bombing allowed ISIS to make gains, and even take over a Syrian army base.
While there is nothing stopping all three parties from recommitting to the cease-fire, by Sunday it certainly appeared that the agreement was coming apart. Jets — either Syrian or Russian — fired missiles into opposition areas of Aleppo in the first strike of its kind since the cease-fire. The Syrian government reportedly restarted its program of dropping barrel bombs from helicopters in the country's southern villages, killing nine people.
Although U.S. officials have apologized for the air strike, that didn't stop Secretary of State John Kerry from venting his frustration on Sunday morning while speaking on CNN. He called on Russia to stop its "grandstanding" and said that "the biggest judgment they need to make is to stop Assad from bombing people indiscriminately, which he continues to do."