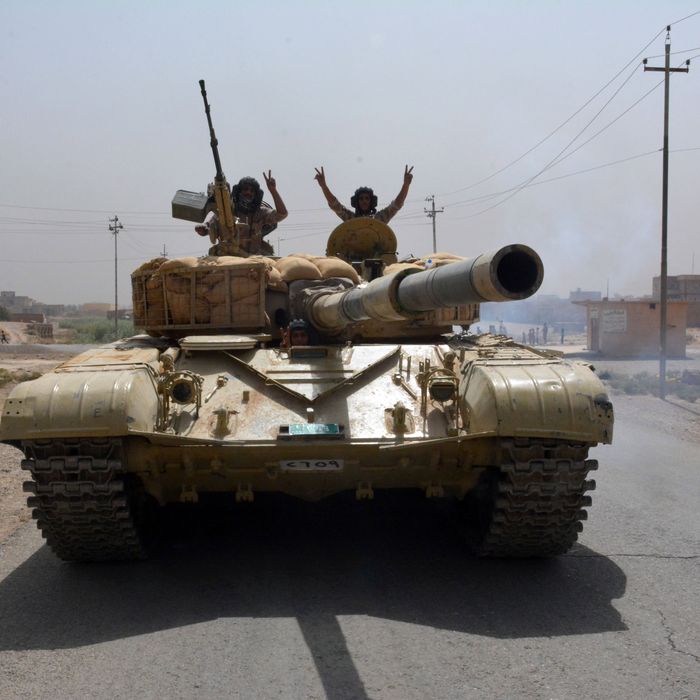 Iraqi troops deploy in the town of Sharqat, 160 miles northwest of Baghdad and around 50 miles south of Mosul, on September 22, 2016.
Photo: Mahmud Saleh/AFP/Getty Images
The United States will have more than 5,000 troops stationed in Iraq after Pentagon officials said Wednesday that an additional 615 troops would be deployed to the country to prepare to take back control of Mosul, Iraq's second largest city, from ISIS militants.
Secretary of Defense Ash Carter said the troops won't be on the front lines, but will instead provide intelligence, and logistical and technical support to the Iraqi forces as they prepare for the upcoming offensive.
Iraqi forces and the United States have been gearing up for this critical battle for months. In July, Iraqi troops retook the Qayara base from ISIS, an airfield about 40 miles south of Mosul. Most of the additional U.S. troops will be stationed at that base, from where Iraqi forces will stage the critical operation this month.
This is at least the second time this year the United States has increased the number of troops in Iraq. In April, the Obama administration committed 200 additional troops, and in July — right after that Qayara victory — sent another 560. Mosul has been under ISIS control for close to two years, and kicking them out of the city would potentially cripple the militants' hold in Iraq. It will be what one Pentagon official said, back in July, would become the "culminating battle" in the fight for Iraq.