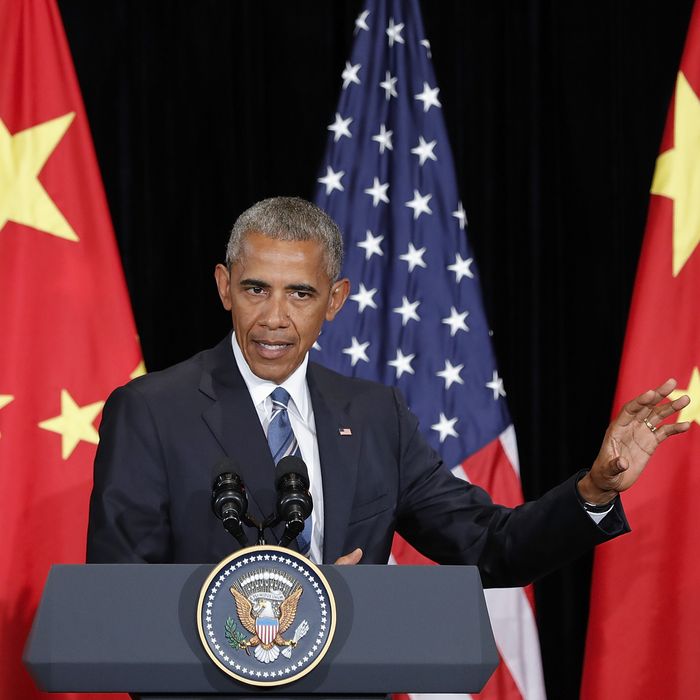 Blame those "gaps."
Photo: Lintao Zhang/Getty Images
President Barack Obama and Russian president Vladimir Putin carved out 90 minutes for some alone time at the G-20 summit in Hangzhou, China, to try to work through some of the stumbling blocks that are holding up a Syrian ceasefire agreement. Obama called his sit-down with Putin "candid, blunt," and "businesslike." But, by his account, the two countries are at a standstill on how to end the fighting and deliver humanitarian aid to war-torn Syria.
"Given the gaps of trust that exist, that's a tough negotiation," Obama told reporters at the close of the G-20. "And we haven't yet closed the gaps in a way where we think it would actually work."
Secretary of State John Kerry and Russian Foreign Minister Sergey Lavrov have been trying to hammer out a deal for about two weeks and kept at negotiations during the G-20 talks. It appeared Sunday as if they were getting close: American officials scheduled a press conference and installed two podiums, then hastily had to remove one when Kerry came back empty-handed from the discussions. Kerry cited "tough issues." He and Lavrov were expected to continue negotiating the truce — or what President Obama called a "meaningful, serious, verifiable cessation of hostilities."
It's unclear what, exactly, is holding up an agreement. Russia and the United States agreed on a ceasefire in February, but that deal unraveled quickly. The failure of the last truce is apparently weighing heavily on President Obama and U.S. officials, who are skeptical that Russia will stick to the terms of any deal — specifically, that the Kremlin will actually use its influence to pressure Syrian president Bashar al-Assad to stop waging attacks on the moderate opposition forces who are backed by the U.S. coalition forces.
Meanwhile, the bloodshed continues unabated in Syria. Assad's government forces are carrying out deadly air raids that claim civilian lives. Extremist groups are operating and recruiting in the chaotic landscape. On Monday, ISIS-linked suicide bombings killed more than 40 people in Syrian government-controlled areas.
Syria was the top priority of the impromptu meeting between Obama and Putin, but the two leaders also discussed a few other wrinkles between the old Cold War foes, including cybersecurity. President Obama did not give any details about what that "cybersecurity" conversation sounded like and said he would not comment on investigations into recent hacks — including those of the DNC and Democratic campaign officials.
Obama did warn against the potential for an escalating cyberwar, saying, "what we cannot do is have a situation where this becomes the wild, wild West."