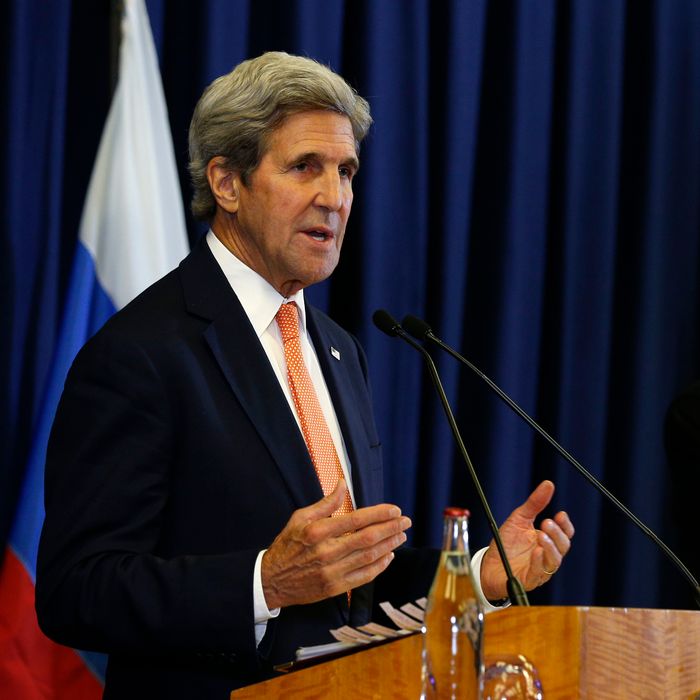 U.S. Secretary of State John Kerry and Russian Foreign Minister Sergei Lavrov at press conference during the meetings.
Photo: Kevin Lamarque/AFP/Getty Images
After weeks of negotiations and months of failed peace efforts, the U.S. and Russia have ironed out a plan that is aimed at reducing the violence in Syria, while simultaneously linking U.S. and Russia efforts to strike Islamist militants in the country, CNN reports. The agreement, which Secretary of State John Kerry and Russian Foreign Minister Sergey V. Lavrov came to in Geneva early Saturday, will consist, at first, of a seven-day cessation in hostilities on both sides of the conflict, starting Monday, so that humanitarian aid can be brought into war-torn areas like the city of Aleppo. Assuming that works, the U.S. and Russia will begin working together and sharing targeting data to coordinate strikes against the Islamist militant groups Nusra Front and ISIS.
The plan also stipulates that the Russians will restrain their ally, Syrian president Bashar Assad, from conducting air strikes on opposition-held territory, in the hope of stopping the regime's devastating and indiscriminate attacks using barrel bombs and chlorine gas. On the other side, the U.S. will work to convince its allies among the opposition forces in Syria to stop associating with the Nusra Front, an Al Qaeda offshoot that the Assad regime has used to paint all opposition fighters as terrorists.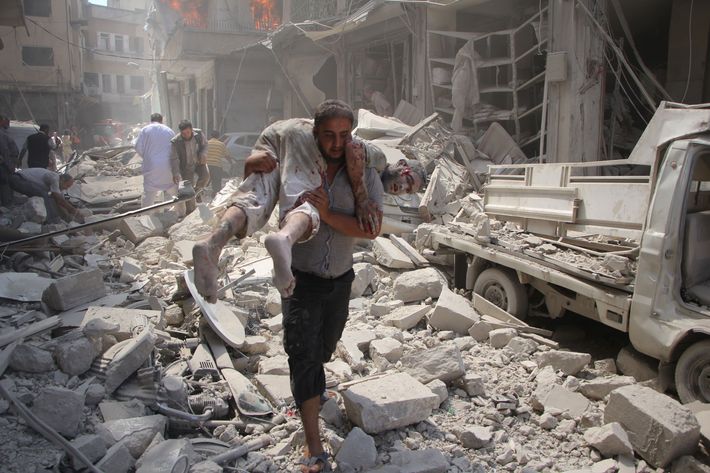 The New York Times notes that American officials don't seem very optimistic that the plan will work, since they don't believe that Russia or the Syrian regime are trustworthy actors in the conflict. For instance, some believe that Russia has taken advantage of the negotiations to allow Assad's forces to strike opposition forces and work to retake control of Aleppo, and there is also concern that what Kerry said would be "some sharing of information" pertaining to the locations and compositions of forces on the ground in Syria would provide the Russians and Assad regime with data to use in their efforts against the non-Nusra opposition. The deal apparently hasn't inspired much optimism inside Syria, either.
In announcing the agreement, Kerry insisted that the U.S. wasn't basing the deal "on trust," but on "oversight and compliance."
A previous ceasefire plan, agreed to in February, only lasted a few weeks. Hundreds of thousands of people have been killed in the more than five-year-old Syrian conflict, which has led to to the worst refugee crisis throughout the region and Europe since World War II.