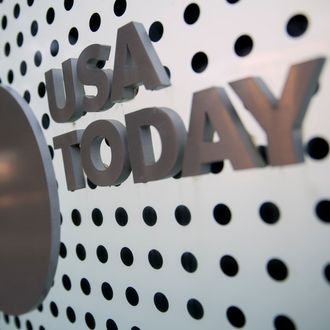 Photo: Andrew Harrer/Bloomberg via Getty Images
USA Today, which has never taken a position on a presidential election in its 34 years as a newspaper, issued its first-ever endorsement on Thursday — or rather, the opposite of an endorsement — in an editorial urging readers to vote for any candidate not named Donald Trump.
Support for the unprecedented editorial, which comes after a number of Republican-leaning outlets have broken with tradition and endorsed the Democrat in this year's race, was unanimous among USA Today's editors, all of whom believe that Trump is "unfit for the presidency."
"From the day he declared his candidacy 15 months ago through this week's first presidential debate," they write, "Trump has demonstrated repeatedly that he lacks the temperament, knowledge, steadiness, and honesty that America needs from its presidents."
The editorial goes on to list some of the many reasons Trump cannot be allowed anywhere near the Oval Office. It describes him as "erratic" and "ill-equipped to be commander-in-chief," a "serial liar" who "isn't leveling with the American people," and someone who "traffics in prejudice" and "has coarsened the national dialogue."
The editors are quick to note that their disavowal of Trump does not represent "unqualified support" for Hillary Clinton, who, they write, "has her own flaws (though hers are far less likely to threaten national security or lead to a constitutional crisis)." The editorial board was not able to reach unanimous consensus on a Clinton endorsement.
"Whatever you do," they conclude, "resist the siren song of a dangerous demagogue. By all means vote, just not for Donald Trump."