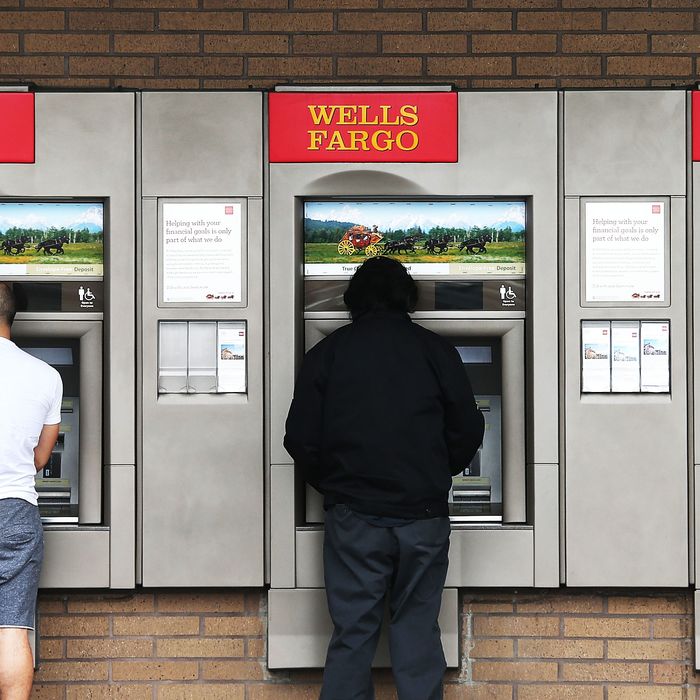 Photo: Justin Sullivan/Getty Images
Elizabeth Warren will get her chance to rip into Wells Fargo one week from today when the Senate banking committee holds a hearing on what the senator has called "a staggering fraud." Last week, the bank was fined $185 million after its employees spent years screwing customers by creating fake accounts in their names without their approval or knowledge. The announcement of next Tuesday's hearing came hours after Warren and four other Democratic senators demanded a chance to probe the bank's aggressive sales tactics. "The magnitude of this situation warrants a thorough and comprehensive review," they wrote in the letter.
Wells Fargo has said it is "prepared to provide the committee with information" and CEO John Stumpf said he is ready to "share Wells Fargo's story." He hinted at that story in an interview in The Wall Street Journal, throwing employees under the bus and saying that the fraud was their fault, while simultaneously claiming the company never created an "incentive to do bad things." Moreover:
"[I]f they're not going to do the thing that we ask them to do — put customers first, honor our vision and values — I don't want them here," he said. "I really don't."

Of the 5,300 employees who were fired over five years due to improper selling, Mr. Stumpf said these included bankers, managers and managers of those managers. He declined to name the highest-ranking employee let go among that group.
Meanwhile, Wells Fargo's share price is down 6 percent since the story broke last week, dropping the bank behind JPMorgan Chase in market value. It's the first time in over three years Wells Fargo hasn't been able to call itself America's most valuable bank.