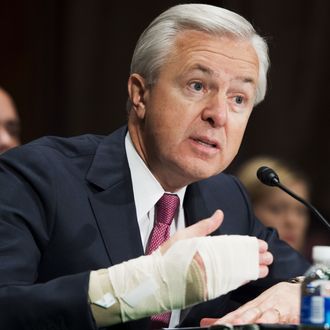 Wells Fargo CEO John Stumpf.
Photo: Saul Loeb/AFP/Getty Images
On Tuesday, Wells Fargo CEO John Stumpf told the Senate Banking Committee that bank employees are "encouraged to raise their hands" if they see illegal activity taking place. Turns out, that's so they can be fired.
That's allegedly what happened to a handful of employees, who told CNN that they were let go after blowing the whistle on the fraudulent practices that resulted in $185 million in fines for the bank. One New Jersey man said he called the ethics hotline and was fired eight days later for tardiness. A Texas woman says she called the company's ethics hotline to report dubious sales practices and faced retaliatory "bullying" and "defamation of character." Earlier this month, she was fired for falsifying documents, something she denies doing.
In addition to the fired employees, CNN spoke to someone who used to work in Wells Fargo HR. This official confirmed that the bank's strategy for dealing with whistle-blowers was to find ways to fire them "in retaliation for shining light."
A Wells Fargo spokeswoman denied the allegations, telling CNN, "We do not tolerate retaliation against team members who report their concerns in good faith."