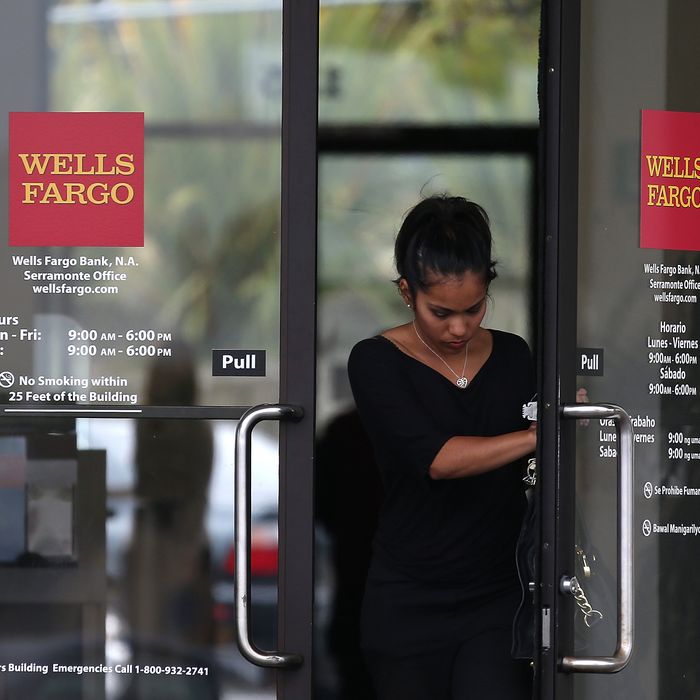 Photo: Justin Sullivan/Getty Images
Wells Fargo has fired 5,300 employees and incurred $185 million in fines for a massive pattern of fraud that saw millions of accounts opened on behalf of customers without their knowledge.
Bank employees opened around 1.5 million checking accounts and applied for just over a half-million credit cards using real names and fake email addresses of existing customers. To create some of those accounts, employees essentially stole from customers. They would take money from a customer's real account to satisfy the requirements of the new account, which left customers vulnerable to overdraft fees and with less money in their bank account than there should have been.
Employees say they were motivated to screw customers by both pressure to increase the number of accounts and incentives that rewarded them for doing so.
In the past, Wells Fargo workers have complained of quotas requiring them to sign up customers for as many as 20 financial products (accounts, overdraft insurance, etc.) each day.
The $185 million in fines is split into three parts. The Consumer Financial Protection Bureau hit the bank with its biggest fine ever, $100 million. An additional $35 million goes to the Office of the Comptroller of the Currency, while the city and county of Los Angeles gets $50 million. Customers were also refunded $2.5 million.