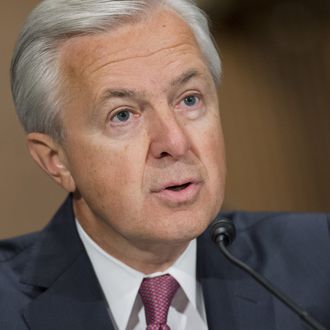 Photo: Saul Loeb/AFP/Getty Images
Wells Fargo CEO John Stumpf is forfeiting $41 million in unvested equity awards for the bank's years-long pattern of scamming customers. The bank's board announced the decision Tuesday night as it attempts to show lawmakers, who will grill Stumpf once again on Thursday, that it's taking the sales scandal seriously.
In addition to the $41 million, Stumpf will not receive a salary during an independent investigation into the scandal and he won't receive a bonus for 2016. Same goes for the former head of the division responsible for creating millions of fake accounts, Carrie Tolstedt. She planned to retire at the end of the year, but has been given the boot. So in addition to forgoing her 2016 bonus, she'll miss out on severance pay and give up $19 million in unvested equity awards.

These clawbacks mark the first punishment during this scandal for anyone in a position of power. Previously, thousands of low-level employees, blamed by Stumpf for the whole mess, had been fired. Still, it's not like Stumpf is hurting. His losses for his role in this disaster amount to a quarter of his compensation in his 35 years at the bank.