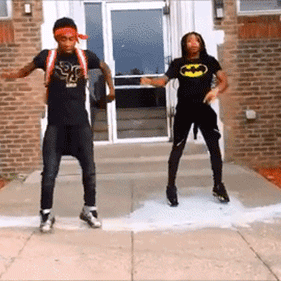 Have you heard the classic beat to Crime Mob's "Knuck If You Buck" recently? Watched high-schoolers dancing in unison to the delight of their peers, filming on their cell phones? Seen video on your social-media feeds of teenagers in volleyball uniforms moving to something approximating a beat, possibly accompanied by the "cry-laughing" emoji? If so, you may have been exposed to "TZ Anthem."
A dance craze has suddenly taken over the teenage internet, and you have Zay Hilfiger to thank for it. The 15-year-old self-proclaimed "internet celebrity, dancer, comedian, rapper, and YouTuber" with a "good Instagram following" is the artist behind "TZ Anthem," a catchy track performed over the beat to Crime Mob's "Knuck If You Buck." But more importantly, he's the man behind the #TZAnthemChallenge, in which participants undertake the entire sequence of dance moves performed by Hilfiger in the official video. Dance challenges are the frequent and popular subject of YouTube videos, but TZ Anthem seems to have some particularly limber legs: It's currently taking over living rooms, cafeterias, locker rooms, high-school parking lots — which means it's also taken over Vine, Snapchat, and Twitter. Just ask the nearest teenager you can find.
Hilfiger's song has taken off online over the past month, but the Detroit teen explains the song's origins date back a few years. "I made the song during summer 2014, but it wasn't even a real song then," Hilfiger told me. "I was just with my friends playing around, you know. This is when dances like the Nae Nae and the Whip were hot, so we just started saying 'juju,'" (The Juju is one of several moves in the corresponding dance to "TZ Anthem.") "As the summer [2016] went over, I came up and was like, I want to make this a real song," Hilfiger said. "I didn't really expect it to do what it did."
He posted the track to SoundCloud, but says since he didn't promote the song, he wasn't anticipating a wide audience. "I just made it, put it out there, and it was alright," Hilfiger explained. "People would say, This is a good song, and take it to their friends." But when a performing group he belongs to, called Fresh the Clowns, shared a choreographed dance to the song to their over 100,000 Instagram followers, the viral lift began. (Fresh the Clowns, Hilfiger says, are "not your average clowns.")
That was about a month ago. Since then, the song has taken off, joining a decade's worth of viral-dance crazes. "Everybody started doing it," Hilfiger said. "Everybody has been tagging us left and right and doing exactly the routine we did. It was going viral … It's just blowing up."
But what's made the TZ Anthem challenge so particularly popular? One engine for TZ Anthem Challenge's viral success has been its adoption by young white women, whose participation in the challenge (and skill at doing so) have made them subject to sarcastic praise, accusations of cultural appropriation, and, of course, memeification.
Hilfiger, for his part, isn't concerned about appropriation ("y'all white girls killed it," he tweeted yesterday, "but this is how it's really done"). "I don't really be all into that. I see people making the memes, but the way I see it, if you're having fun, then you just having fun. The song is for everybody."
Hilfiger says he's got a new song in the works that we can expect to hear soon. Which is good, because the people are already starting to fuse "TZ Anthem" videos with other memes, meaning it's only a matter of time before this song is buried in the viral-dance-craze cemetery beside 2007's "Crank Dat" and 2008's "Wobble."