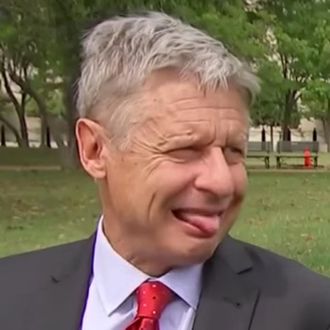 Libertarian nominee for president Gary Johnson was either feeling a little loopy in a recent interview with MSNBC or he accidentally revealed that he's a lizard person. First, Johnson told reporter Kasie Hunt that he thinks he could draw even in the polls with Hillary Clinton and Donald Trump simply by getting a seat at the debate. "It wouldn't have anything to do with my debate performance either; it's just that people would recognize that there's another choice," he said.
Then he did a weird thing with his tongue.
Johnson has been telling anyone who will listen that he should be included in the debates and railing against the Commission on Presidential Debates, which requires a candidate to be polling at 15 percent to get a seat on the debate stage.
"It's a rigged game, man," Johnson said earlier this week. "Democrats and Republicans make up the presidential debate commission, 15 percent is not the law. It's Democrats and Republicans not wanting a Ross Perot on the stage again."
While the CRP has ruled out Johnson and Green Party nominee Jill Stein for Monday's debate at Hofstra, both candidates are still fighting for a spot at the two remaining debates. Based on the most recent polling, though, they don't have much of a chance.