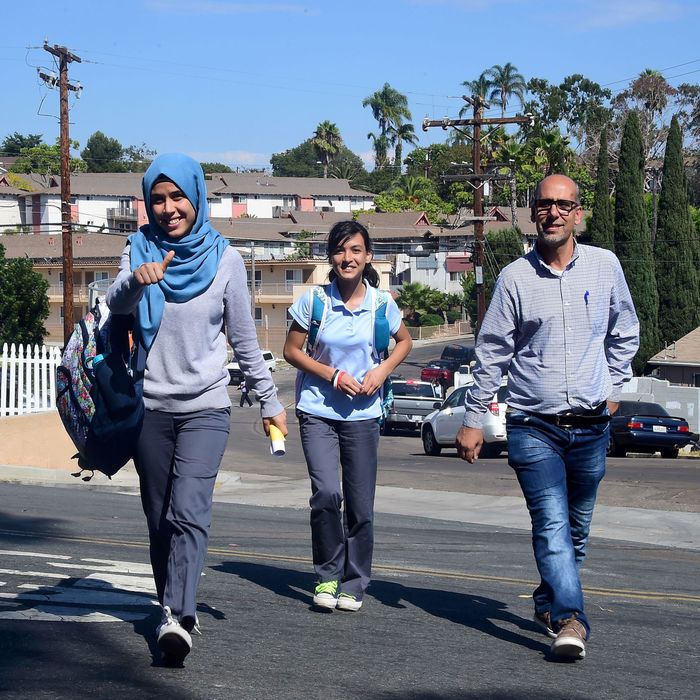 Syrian refugee Ammar Kawkab (R) crosses the street with his daughters Noor (C) and Aya (L) as they make their way home from school in San Diego on August 31, 2016.
Photo: Frederic J. Brown/AFP/Getty Images
Before President Trump takes office, the current administration announced that it is looking to resettle at least 110,000 refugees in the United States in fiscal year 2017, which starts October 1 of this year. This is about a 30 percent increase from 2016, when the U.S. planned to welcome 85,000, up from 70,000 the year before. According to The Wall Street Journal, this is the highest number of refugees the U.S. has pledged to accept in more than 20 years — specifically, 112,000 people in 1995 under President Bill Clinton which came after the Rwandan genocide and during conflict in the Balkans.
The White House hasn't officially made the announcement yet, but Secretary of State John Kerry has reportedly briefed members of Congress about the planned increase. In 2016, the Obama administration pledged to take in 10,000 Syrian refugees — a number too high for many Republican governors, but incredibly small given the scale of refugee crisis — and is on track to meet that goal by the end of September. It's unclear exactly how many Syrian refugees will be brought to the United States under the new proposal, but The Wall Street Journal reports that about the administration will commit to accept 40,000 from the Near East/South Asia, a region that includes the war-torn country.