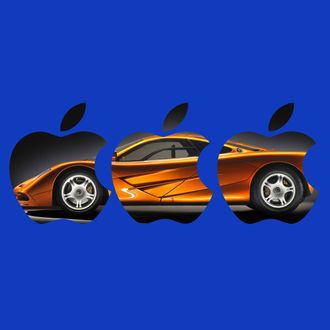 Apple, the company most famous for killing the headphone jack, is reportedly in talks to buy luxury automaker McLaren. According to the Financial Times, the talks involve either a complete takeover or a strategic investment (earlier this year, Apple invested $1 billion in Chinese ride-share company Didi Chuxing). McLaren is valued between roughly $1.3 billion and $1.9 billion. In a statement, McLaren denied the rumor ("We can confirm that McLaren is not in discussion with Apple in respect of any potential investment,"), but the FT's Tim Bradshaw stands by his story.
Why Apple would buy McLaren seems both obvious and mysterious. Apple has long been rumored to be developing a car, and the purchase of McLaren would be a very quick — and given McLaren's size and financial instability, cheap — way to add an enormous amount of automotive tech, engineering, and management expertise. But McLaren is small, and it notoriously makes each of its cars "by hand." Of all the companies Apple could partner with, McLaren would bring the least logistical experience and knowledge in mass vehicle production.
But the exact scope of Apple's plans for its secretive car program, which it has never publicly acknowledged, is still unclear (shocking, I know). Previous reports had indicated that Apple was researching manufacturing its own vehicles, though recent shifts in the division's leadership indicate that the company is now more interested in "the underlying systems that would power a self-driving car," according to FT's sources. In other words, Apple wants to make the software (and some hardware) that powers autonomous vehicles — the core of the product — but doesn't want to make the whole vehicle.
In that case, Apple doesn't need the mass-production knowledge that a larger car company would bring it — it just needs smart engineers and technicians who can help it learn how to best integrate a carOS platform into other vehicles. Oh, and a nice, globally recognizable luxury trademark to go along with it. Like, say, McLaren.