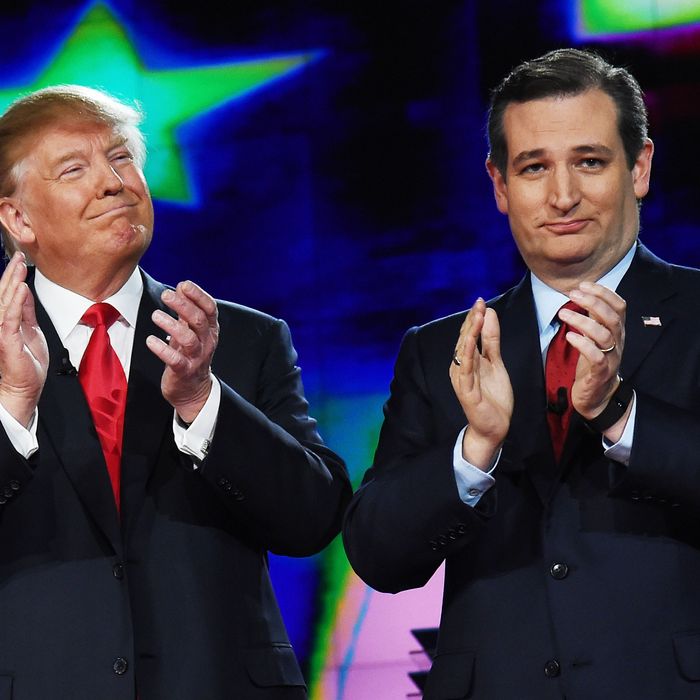 Here are Trump and Cruz in happier times, before they started insulting each other and their families.
Photo: Ethan Miller/Getty Images
So, after weathering a storm of Trumpite disdain for his conspicuous refusal to urge a vote for Donald Trump during the Republican National Convention, Senator Ted Cruz is reportedly mulling a last-minute endorsement of the mogul, perhaps as early as today. "He thinks about it every day," says his former campaign manager.
There has been a rapprochement on Twitter between Trump and Cruz over the latter's Senate fight against the Obama administration's plan to give up exclusive U.S. oversight over master lists of web addresses. It's in sharp contrast to the nastiness that broke out between the two rivals in the late stages of the nomination contest, when they routinely called each other liars and the collateral damage spread to family members.
But inquiring minds want to know: Why would Cruz relent now and put on the party harness after enduring a sea of boos at the convention and probably alienating serious Trump people permanently? At The Atlantic, Russell Berman suggests Cruz is worried about his reelection bid in 2018, and the possibility of a primary challenge fed by the parallel grudges that Establishment Republicans and Trumpites hold against the junior senator from Texas.
It is the changing dynamics of the presidential general election, however, that may well be pushing Cruz toward at least a pro forma gesture toward his party's nominee. By that I do not mean that Cruz is gaming the possibility that Trump will win; no matter what he does now, the Texan will almost certainly be frozen out of any real influence in a Trump administration. It's the significant likelihood of a narrow Trump loss that is probably bugging Cruz and his advisers. It was one thing to stay on the sidelines and watch sadly as Trump self-destructed and lost by a landslide, as appeared likely for a good part of the general-election campaign. In that scenario, Cruz was in a good position to help pick up the pieces afterward and become the chief advocate for a movement-conservative version of the GOP's post-Trump future. But after an agonizingly close Trump defeat, Cruz would become a prime object of recriminations for having helped Hillary Clinton and her baby-killing, Christian-hating secular-socialist minions to seize power.
So why not issue a tepid endorsement that is heavy on the Hillary hatred, and maybe even imply that had GOP voters been smart enough to nominate Cruz, they'd be snake-dancing to the polls in joy and winning a wipeout victory from the top to the bottom of the ticket?
It makes a lot of sense. But even if Cruz has made the decision to take himself off any postelection stab-in-the-back list, the timing is tricky. You'd figure that out of respect for his own father and wife, who have been the target of Trump smears, he'd find a low-profile time and place to do the deed. Maybe late on a Friday like today is ideal, via a press release issued when he's far, far away. It's the least he can do, and "the least" sounds about right.