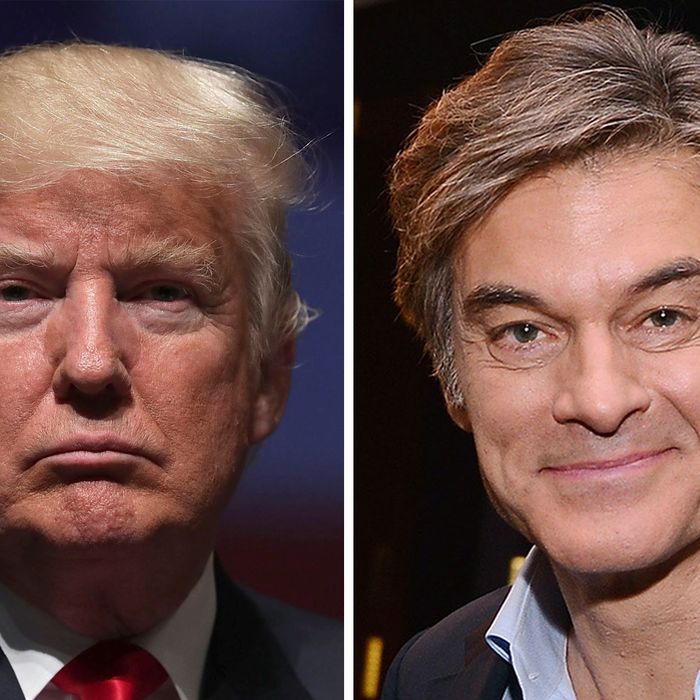 When Donald Trump appears on Dr. Oz's daytime talk show to discuss the results of Trump's recent physical exam, the Republican presidential nominee will be in for a surprise. According to Fox's Brian Kilmeade, Trump will not know the results of the exam before Dr. Oz reveals them in front of the cameras on Wednesday.
That may sound like something that belongs on Maury, but there's reason to believe that the surprise reveal won't contain any fireworks. Asked by Kilmeade how he would handle any "embarrassing things" in the results, Dr. Oz said, "Well, I bet you he won't release them. … It's his decision."
Perhaps that means that Trump's campaign, but not the candidate himself, will vet the physical results before passing them on to the doctor. Or maybe it means the promised surprise is a lie and Trump is turning his campaign into more of a reality show than it already is.
For what it's worth, Dr. Oz did tell Kilmeade that he plans to "ask [Trump] pointed questions about his health." And if this advice the doctor gave a group of governors in 2013 can be taken as a clue, that may include Dr. Oz asking Trump the pointiest question of them all: How often does he have sex?