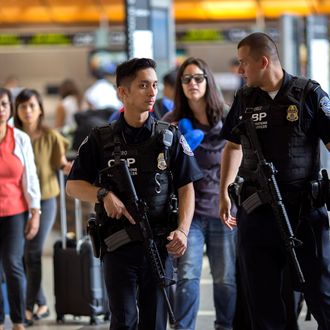 Heightened security at LAX.
Photo: David McNew/Getty Images
Nader Elhuzayel, 25, has been sentenced to 30 years in prison for attempting to join the Islamic State. He was convicted of providing material support to a terrorist organization.
About 70 other Americans have been convicted on charges of trying to join ISIS, most of whom entered guilty pleas.
Elhuzayel was arrested in May of last year at Los Angeles International Airport trying to board a Turkish Airlines flight to Turkey. Officials said he had planned to make his way from Turkey into Syria.
The evidence against Elhuzayel was damning. He was arrested with a carry-on bag that held a hard drive full of graphic photos of ISIS beheadings and a hit list that had been distributed by the organization containing the personal information of U.S. Defense Department employees.
In the weeks before he was arrested, Elhuzayel tweeted his support for terror attacks in the United States and even appeared in a video pledging allegiance to ISIS leader Abu Bakr al-Baghdadi and promising to enlist in the group as a soldier.
In one tweet, Elhuzayel parroted the homophobic rhetoric of the Islamic State, writing: "The only thing more beautiful than rain is homosexuals being thrown off tall buildings."
Elhuzayel was tried alongside a co-defendant, Muhanad Badawi. Badawi was convicted of conspiring with Elhuzayel to support terrorism, aiding and abetting him — Badawi purchased Elhuzayel's ticket — and one count of financial aid fraud.
During sentencing, U.S. District Judge David Carter said of Elhuzayel, "There's no remorse, no repudiation of ISIL, only death and destruction."
Badawi will be sentenced on October 17.