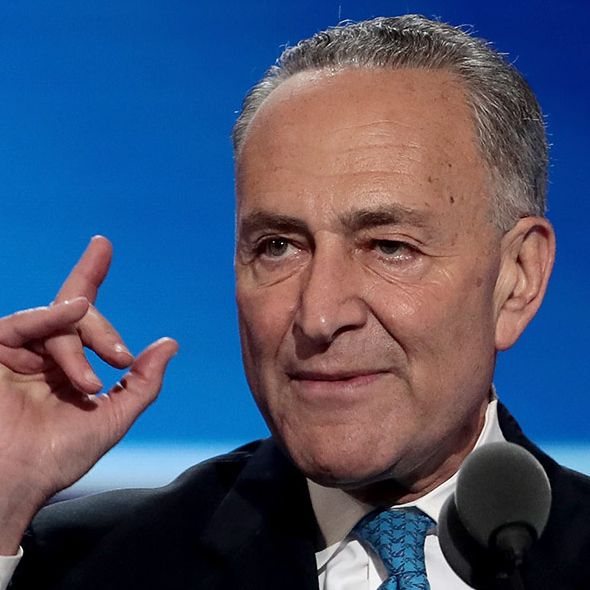 It's beginning to look like Mitch McConnell will be handing his gavel to Chuck Shumer in January.,
Photo: Alex Wong/Drew Angerer/Getty Images
The big political question during the last two weeks of this wild election cycle is whether an all-but-certain Hillary Clinton victory in the presidential race will help create a Democratic wave that sweeps the Senate and perhaps even the House into the Donkey column, or if Republicans will be able to separate themselves from Donald Trump and survive to create gridlock in Washington for the next few years.
Typically down-ballot "waves" appear late in the cycle and push close elections in one direction. We could be seeing that in Senate races right now. The Cook Political Report's veteran Senate-watcher Jennifer Duffy has revised her forecast to project Democratic gains of five-to-seven seats (a net gain of four seats would flip control to the Democrats, assuming Tim Kaine is vice-president and casts a tie-breaking vote). She notes the history here:
History shows that races in the Toss Up column never split down the middle; one party tends to win the lion's share of them. Since 1998, no party has won less than 67 percent of the seats in Toss Up. While the 2016 election has broken every political science rule and trend, we'd be surprised if this becomes one of them.
Right now Duffy has seven Senate seats — six of them currently held by Republicans — in the Toss Up column, with Democrats holding significant leads in two others (Illinois and Wisconsin). The Real Clear Politics polling averages show virtual ties in Missouri, Nevada, New Hampshire, and Pennsylvania. After losing some ground, Democrat Evan Bayh seems to have stabilized his lead in Indiana. And while Marco Rubio in Florida and Richard Burr in North Carolina are maintaining narrow leads, they are very shaky, and the news from early voting and the presidential contest is not so good for the GOP.
While it is particularly interesting that the very careful Cook Report is now projecting a Democratic Senate, other forecasters have moved in the same direction. The Upshot places the odds of a Democratic takeover at 68 percent; FiveThirtyEight is at 74 percent; Daily Kos at 66 percent; HuffPost at 69 percent; Princeton Election Consortium is all the way up to 84 percent; and the betting aggregator PredictWise is at 78 percent.
There is a theory that if Trump really collapses, down-ballot Republicans will find it easier to openly campaign as a check on Hillary Clinton and will mitigate their losses. But it's just a theory based on some old precedents (mostly 1996); the more likely contingency in this straight-ticket era is that a Trump slump will depress Republican turnout and damage the GOP all the way down to dogcatcher races. In that case, the Senate is the lowest-hanging fruit of a tree bending to a strong wind.