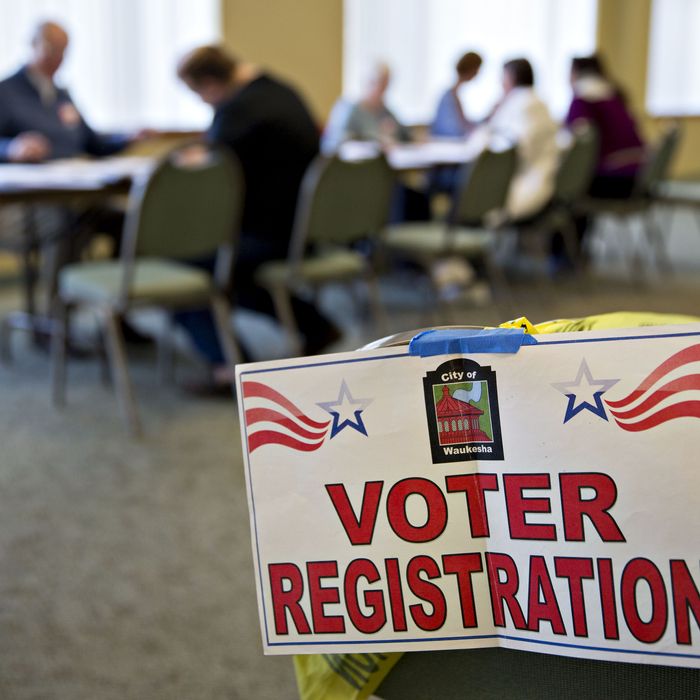 A bad sign for Trump.
Photo: Daniel Acker/Bloomberg via Getty Images
While we can all agree that this election has been awful, there is one bit of good news to come out of all the vitriol: Historic numbers of Americans have registered to vote.
More than 200 million people are now registered to vote in the country, 50 million more than were registered eight years ago, and more than 70 million more than were registered in the late '90s.
Incredibly, as late as 1996, there weren't even 200 million U.S. citizens of voting age, let alone actually registered to vote.
The jump in voter registration speaks to a few things: changing demographics, the divisive nature of this election stoking voter passions, and intensive voter-registration efforts by both parties — but especially the Democrats.
Sadly for Donald Trump, all of these new voters are not white men. In fact, it appears that the new voters heavily lean Democratic, with 42.6 percent registered as Democrats and only 29 percent registered as Republicans — just 0.6 percent more than those who identify as independent. The major growth engine of the trend has been the United States' booming Hispanic populations, which are expected to overwhelmingly favor Hillary Clinton.
This election's voters are expected to be the most diverse in U.S. history with a full 31 percent of the electorate made up of ethnic minorities.
Still, these numbers are not definitive. They all come from TargetSmart, a Democratic political-data firm. Because there is no central national record of registered voters and all voter records are handled at the state level, it is left up to independent firms like TargetSmart to tabulate national voting trends.