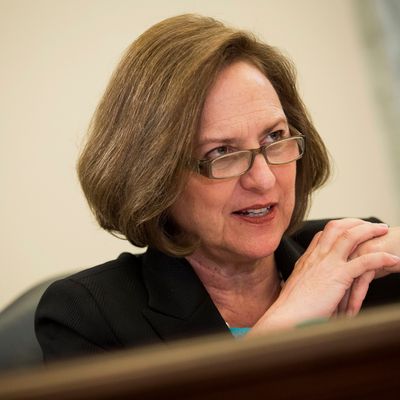 Deb Fischer.
Photo: Drew Angerer/Bloomberg via Getty Images
Nebraska Senator Deb Fischer told a local radio station on Tuesday that she plans to "vote for Mr. Trump and Mr. Pence on November 8." This is noteworthy because, just three days ago, she was calling on Trump to resign his candidacy.
When asked about her abrupt change of heart, Fischer said that while she was critical of Trump's recently unveiled bragging about grabbing women's genitals, she never said she wouldn't vote for him. "I put out a statement … with regard to Mr. Trump's comments. I felt they were disgusting. I felt they were unacceptable and I never said I was not voting for our Republican ticket."

That is technically true. On Saturday she said:
Still, it was a bit jarring to see her shift so quickly from calling for Trump's resignation to saying that voting for him was "not a tough choice" and that she has "respect" for Trump's decision not to step down.
Fischer is one of only six female Republican senators, and now one of only two who have not pulled their endorsement of Trump or called for him to quit the race.
"I support the Republican ticket," she explained, "and it's a Trump-Pence ticket."