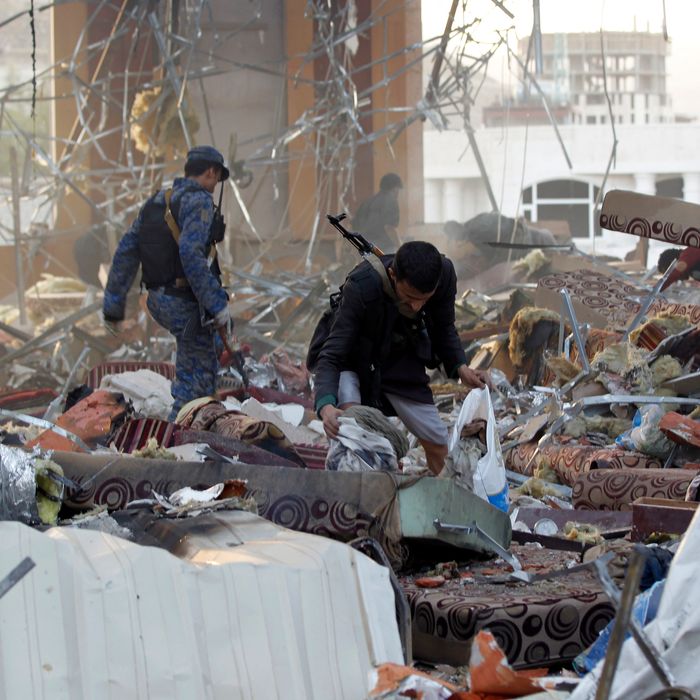 Yemeni men search through the aftermath of a recent air strike.
Photo: Mohammed Huwais/AFP/Getty Images
The United States is reviewing its support of Saudi Arabia's military intervention in Yemen after a recent air strike there killed 140 funeral mourners, wounding hundreds more.
On Sunday, Secretary of State John Kerry met with Saudi Arabia's deputy crown prince and foreign minister to express the United States' "deep concern" over the civilian deaths.
The targeted funeral in the Yemeni capital Sanaa was for the father of Interior Minister Jalal al-Ruwaishan, an ally of the ruling Houthis whom the Saudis are trying to oust from power. So far Saudi Arabia has denied involvement in the strike.
A Saudi coalition spokesman, Major General Ahmed Asiri, said that people should keep their minds open to "other causes of bombing."
The attack has been condemned by the United Nations, the European Union, and the United States, though in its domestic state media Saudi Arabia has flat-out denied the bombing, saying that it was the result of an internal dispute between the Houthis and their allies within Yemen.
Still many are dubious about Saudi denials, especially since Saudi Arabia is the only power with fighter jets in Yemen, and because the casualties of the bombing included prominent enemies of the kingdom, including high-ranking Houthi military officials and their allies. Speaking with Saudi Deputy Crown Prince Mohammad Bin Salman, Kerry said that the kingdom must take "urgent steps to ensure such an incident does not happen again," according to State Department spokesman Mark Toner.
The United States has historically been one of Saudi Arabia's closest allies and largest supporters. Along with military support to the tune of $1.5 billion in arms sales, the U.S. has also provided intelligence help in Yemen in particular. Now, in light of the recent bombing, the White House has signaled that it is reassessing that relationship.
Speaking on Saturday, National Security Council spokesman Ned Price said that the "U.S. security cooperation with Saudi Arabia is not a blank check. Even as we assist Saudi Arabia regarding the defense of their territorial integrity, we have and will continue to express our serious concerns about the conflict in Yemen and how it has been waged."
Saudi Arabian representatives over the weekend announced that the country had agreed to an investigation into the bombing by American military experts, but the heightening of tensions between the two allies could not have come at a worse time, with both countries at odds over the U.S.'s landmark Iranian nuclear deal, the civil war in Syria, and most recently the override of a veto by President Obama that will allow families of 9/11 victims to sue the kingdom.