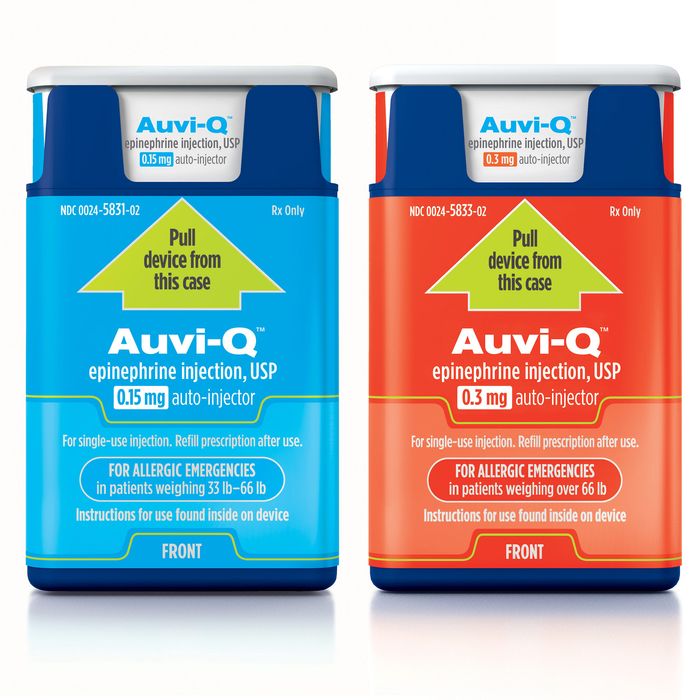 The EpiPen's virtual monopoly might be coming to an end. Kaléo Pharma has said it will reintroduce its own epinephrine-injection device, Auvi-Q, for sale again in 2017.
Auvi-Q was taken off the market in 2015, after reports that the spring-loaded shot wasn't delivering the proper dose of epinephrine. But Kaléo Pharma changed up its production process and increased safety checks, and it says it's ready to restock the anti-allergy device. (Kaléo invented Auvi-Q but licensed the shot to Sanofi; Kaléo repurchased the rights this year.)
It will be positioned against the EpiPen, a decades-old drug that made headlines this year after huge price increases — a hike of almost 500 percent since 2009. Some families with high-deductible plans had to shell out $600 for a two-pack, which expired after a year. Mylan, EpiPen's maker, came under fire from consumers and Congress, which launched an investigation.
Mylan responded to the backlash by expanding its discount program, including raising the dollar amount of coupons and increasing the income level at which people could qualify for assistance. The pharmaceutical company also announced that it would start making a generic version of the EpiPen at about a 50 percent discount.
But now the big question is whether the reintroduction of Auvi-Q will decrease the price of these life-saving devices. Auvi-Q had a much smaller market share before it got pulled (about 10 percent, per the New York Times). It functioned similarly to the EpiPen — shooting a dose of epinephrine into the thigh of someone on the verge of an allergy attack — but had a slightly different design: a thinner, square-shaped device that was marketed as something people could slip more easily into a pocket. But Auvi-Q wasn't exactly cheap, either: According to the New York Times, its list price for a pack of two was $500 in 2015, before it was pulled from shelves. (That doesn't include rebates to insurers and other discounts that could make the drug cheaper for patients.)
Kaléo CEO Spencer Williamson said the Auvi-Q's list price hasn't yet been set, but the company is working to keep consumer costs low.