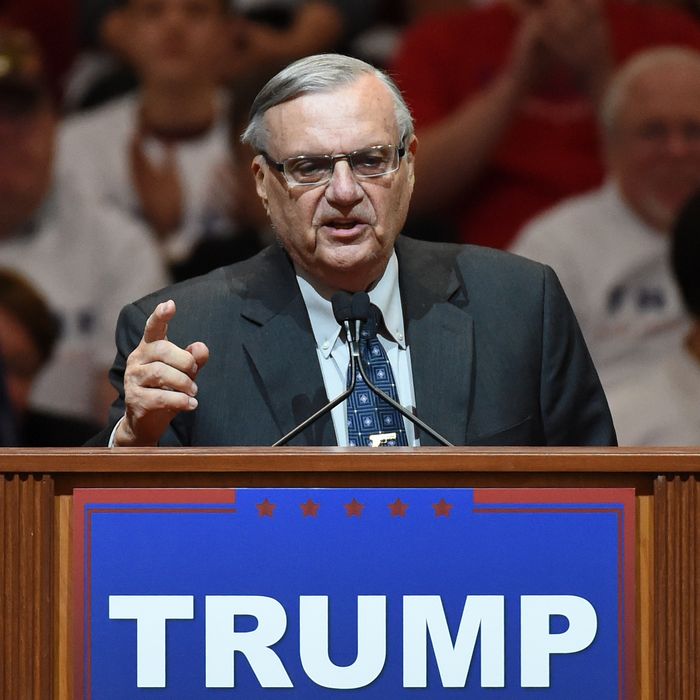 What do you do when your sheriff is in jail?
Photo: Ethan Miller/Getty Images
Divisive Sheriff Joe Arpaio is back in the news again, charged with federal criminal contempt just two weeks before he stands for reelection, seeking his seventh term.
Prosecutors promised two weeks ago that they would charge Arapio, the 84-year-old sheriff of Arizona's Maricopa County, and he already ran television ads boasting that the Obama administration's Justice Department had plans to prosecute him for his hard-line stance on immigration.
If found guilty, he could be spending the next six months in jail, an eventuality that has seriously complicated his election prospects.
The charges spring from a court-order issued way back in 2011 demanding that the wayward sheriff cease his controversial immigration patrols, in which he instructed his officers to stop anybody who looked like a potential illegal immigrant.
For a further 18 months, the patrols did not stop and it appears that prosecutors have finally had enough. Arpaio has admitted to violating the court's order, though he insists that he did so unintentionally. The judge did not agree, believing instead that the sheriff continued the patrols to bolster his anti-immigration cred in the lead up to the 2012 election.
Arpaio's political opponent, Paul Penzone, has already seized on the charges, saying that the sheriff's recent legal troubles are just "another example of the sheriff putting his own personal objectives ahead of the best interest of the community at our expense."
And the expense is considerable. By next summer, it is estimated that Phoenix taxpayers will have shelled out $72 million defending the sheriff from the charges.
The trial date for Arpaio is set for December 6, well after the election. And, the charges alone are certainly not enough to give up on the lawman's political prospects just yet. Yes, the misdemeanor charge could put him behind bars for half-a-year, but it would not legally prevent him from accepting public office or serving as sheriff.