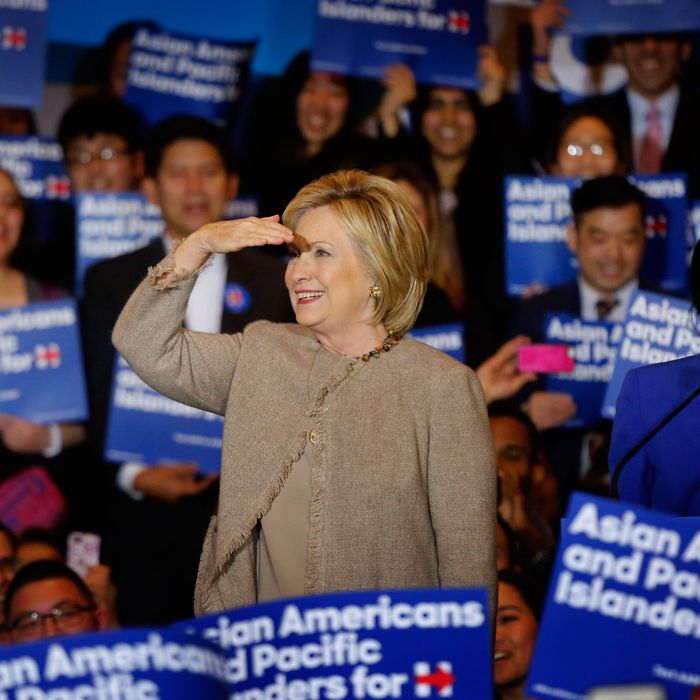 Looks like Clinton will do about as well with Asian-Americans as Obama did.
Photo: Barbara Davidson/LA Times via Getty Images
One of Barack Obama's more surprising political accomplishments was to consolidate a strong Democratic hold on Asian-American voters, once (as recently as 1992) a distinctly Republican-leaning demographic group. According to exit polls, Obama won Asian-Americans by an impressive 62/35 margin in 2008 and then an astonishing 73/26 margin in 2012.
So it came as a shock when 2014 exit polls showed Republicans carrying the Asian-American vote by 50/49.
Those findings were immediately contested by analysts contending it was based on an inadequate or unrepresentative sample. One of the most vocal disputants was a Berkeley professor named Taeku Lee, who is also the managing director of Asian American Decisions, a polling firm. Lee noted wide geographical disparities in the Asian-American vote in polls his own firm conducted, and suggested the exits may have accidentally over-sampled a narrow range of Asian-American opinion.
Now Lee and Asian American Decisions are back with a national online poll (taken between 9/29 and 10/11) of Asian-Americans showing Clinton leading Trump 63/17 (with 9 percent supporting other candidates). Those numbers, if the undecided vote proportionately, would give Democrats a decent chance of matching or exceeding the margin reported in the 2012 exits. The survey also showed congressional Democrats leading Republicans by a smaller but still impressive 59/21 margin.
We'll have to wait and see if this year's exit polls approximate these numbers or once again baffle everyone. But it seems reasonable to assume the Asian-American vote is either returning to or staying with Democrats for the time being.