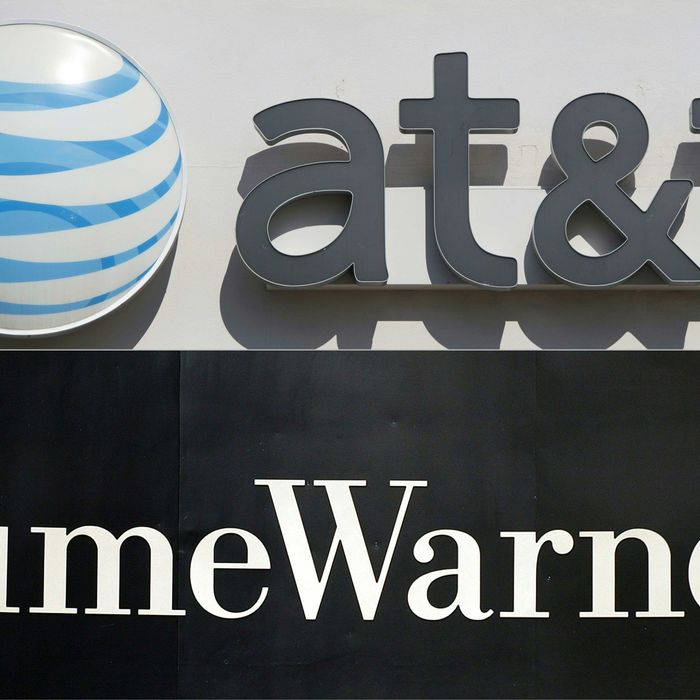 Photo: Saul Loeb/AFP/Getty Images
Good news for anyone who thinks America's leading telecom companies are too small and powerless — AT&T has agreed to buy Time Warner for more than $85 billion, according to The Wall Street Journal. The deal is is the largest merger of content and distribution since Comcast purchased NBC Universal in 2011.
The merger will provide AT&T with copious content to distribute via its wireless, broadband, and satellite-TV infrastructure. The telecom has been aggressively seeking an entertainment empire to bring under its umbrella, so as to stock an over-the-top video service it hopes to launch by 2017. Acquiring Time Warner gives that video service privileged access to programming from TNT, TBS, CNN, HBO, and Warner Bros.' film and television studios.
The purchase, then, will be AT&T's attempt to occupy a profitable place in the age of cord-cutting. As the Journal noted on Friday, Time Warner's portfolio of news, prestige programming, and high-value sports content is likely to stay in high demand among cable distributors, even if competition from streaming services forces them to shrink their bundles, to bring down monthly fees.
However, that scale could prove the deal's undoing. Regulators expressed concerns about the Comcast–NBCU deal five years ago. And since then, the appetite for antitrust enforcement — particularly within the Democratic Party — has grown significantly.
Throughout her 2016 campaign, Hillary Clinton has pledged to fight the "excessive concentration" of power within key industries. Whether a Clinton administration would deem AT&T's ambitions excessive remains to be seen. The telecom giant has donated $196,952 to Clinton's campaign this cycle, according to Open Secrets.
This post has been updated to reflect confirmation of the deal on Saturday.