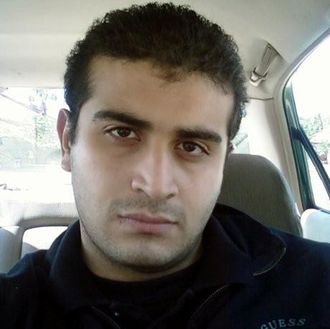 Photo: Undated Selfie of Omar Mateen/Myspace
"You're speaking to the person who pledged of allegiance to the Islamic State [of Abu Bakr al-Baghdadi]," says Omar Mateen, speaking quickly and with a shaky edge to his voice, over the phone to an Orlando police negotiator.
"Can you tell me where you are right now so I can get you safe?" replies the negotiator.
"No," Mateen spits out. "No. Because you have to tell America to stop bombing Syria and Iraq. They're killing a lot of innocent people. So what am I to do here when my people are getting killed over there. You get what I'm saying?"
On Monday, officials released the audio from Omar Mateen's calls between 911 and police negotiators during his attack on Pulse, a gay nightclub in Orlando, that left 49 dead. A judge had ordered that Mateen's calls be published immediately, which multiple media groups had sued to make public. The audio amounts to about a half-hour's worth of tape, reports the Orlando Sentinel. The full transcripts of Mateen's conversations with negotiators were released last month.
"They need to stop the U.S. air strikes. You have to tell the U.S. government to stop bombing," Mateen demands of the negotiator at one point. At times he sounds desperate and impatient and frazzled, firing back at the operator as he asks questions. Other times, as when he first calls 911, Mateen sounds calm and deliberate. He hangs up on the negotiators, prompting multiple calls and conversations in a nearly three-hour standoff before Mateen was killed by police in the predawn hours of June 12. Here is the remainder of the audio:
On Monday, the judge also heard testimony regarding the 911 audio of 232 calls made from victims and others trapped inside the Pulse nightclub as the attack unfolded. More than 600 calls were made that night, and the city has released hundreds; these 232 have been withheld, per officials, because they depict killing or suffering. The judge heard from relatives of Pulse victims on whether that audio should be released; some remained opposed, others were okay with the publication of the call transcripts. None supported the release of the audio outright. The judge ultimately said she would listen to all the 911 calls before making a final decision.