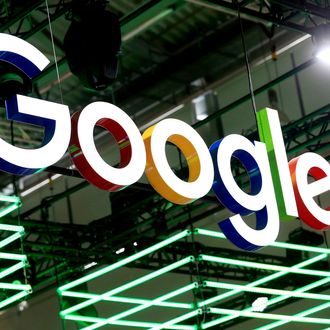 Photo: Bloomberg/Bloomberg via Getty Images
Google just wrapped up its big hardware event. (Spoiler alert: The phone happened.) It kicked off with a groan-inducing sketch from the cast of HBO's Silicon Valley (love a good techie-virgin joke) and went on for about two hours. (High points: serious shade being thrown at Apple and some guy's phone going off any time a presenter said, "Okay, Google.") In case you missed it or had better ways to spend your time than staring at a screen (my preferred state of being), we've rounded up the most important parts for you here.
AI rules everything around Google.
Google CEO Sundar Pichai said his goal is to "build a personal Google for every user" and kicked off the event by delving into the company's AI technology. Specifically, Pichai walked through the details around Google's personal-assistant program, which is aptly named … Google Assistant. Google Assistant comes built into the company's new phones and lets users ask questions, get directions, search for entertainment, and make lists. (Just to name a few features.)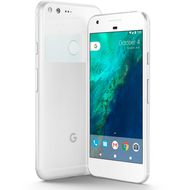 The phone is finally here.
Much of the information about the company's new phone, called the Google Pixel, leaked earlier this week, but it still looks like an excellent new device. The HTC-built phone comes in two sizes (Pixel and Pixel XL), boasts a 12-megapixel camera, and comes with Google Assistant built into it. Other fun features: The phone can run for up to seven hours on just a 15-minute battery charge and comes in three colors with very dumb names: "quite black," "very silver," and the limited-edition "really blue." Prices start at $650 and the phones are available only via Verizon. (Though you can also buy unlocked Pixels through Google.)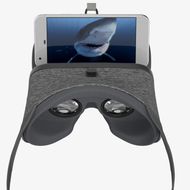 Google took your favorite yoga pants and wrapped them around a virtual-reality headset.
Google is getting into the virtual-reality game with the Daydream View headset. The device costs $79 (which makes it one of the cheapest VR options currently on the market) and is supposedly engineered to fit comfortably over a pair of glasses. (The comfort factor is upped by the athleisure-esque fabric wrapped around the headset.) Daydream View also has a small remote control, which can be used within games or apps like YouTube and Google Photo. (Or it can be dropped onstage while people around the world watch you, if you're the Google employee tasked with presenting the thing. Oops.)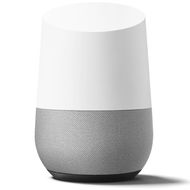 You can finally order a Google Home for your home.
While we've known about Google Home since the spring, today Google finally announced when you can buy the device and how much it'll cost. (November 4 and $129, respectively.) To operate, just holler, "Okay, Google" at the device and ask away. Home can send directions to Google Maps on your phone, connect to Chromecast, tell you how long your commute will take, and even walk you through your daily calendar with a new feature called "My Day." If you want more than one, you can buy a pack of three for $299.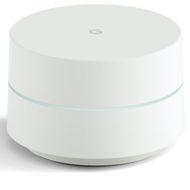 No more Wi-Fi dead zones.
Google's new Wi-Fi system, simply called Google Wi-Fi, is a multi-location router system designed to ensure you get a steady internet connection, everywhere you want it. The small, white routers are engineered to be used in a group (a three-pack costs $299, but you can buy just one for $129) and will ship in December. As you move around, the Wi-Fi system will switch you to the most efficient router. Bonus features include the ability to "pause" the connection and boot your kids offline until they do their homework.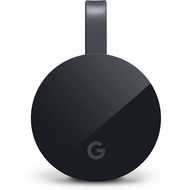 Chromecast gets a facelift.
Google's streaming player, Chromecast, now has a leveled-up option for people looking to watch higher-quality video. Called Chromecast Ultra, the device streams 4K video (with Dolby Vision and HDR), and it streams nearly two times faster than the original Chromecast device. At $69, it's also two times the price.