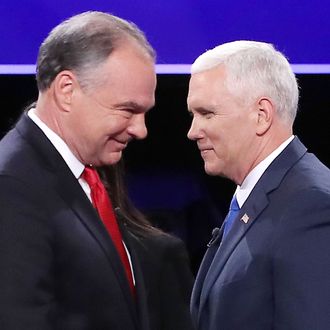 Photo: Mark Wilson/Getty Images
Last night, Tim Kaine, a white man in his late 50s, duked it out with Mike Pence, another white man in his late 50s, at the vice-presidential debate. The two men sat in chairs wearing red and blue ties (respectively) and tried to speak over each other for the better part of 90 minutes. (Special shoutout to moderator Elaine Quijano from CBS News, who was interrupted no less than 27 times.) Not a whole lot happened and yet somehow that hour and a half flew by. To help relive the magic, we've rounded up the best commentary of the night from the place you can go the other 364 days of the year if you want to see grown men argue in circles while a woman looks on: Twitter.
First, meet your candidates.
Here's Democratic vice-presidential nominee Tim Kaine, a senator from Virginia.
And Republican candidate Mike Pence, the governor of Indiana.
And here's a cheat sheet in case you get confused.
Pence started the night off strong by thanking "Norwood University" for hosting the event. (Odd, given the event was held at Longwood University.)
But from the moment Quijano began asking questions, the debating (if you want to call it that) seemed to move away from anything resembling real issues and turn into two dads fighting to have the last possible word. (Looking at you here in particular, Tim Kaine.)
By far the best live-tweeting was done by the gay hookup app Grindr (manned by comedian Guy Branum):
Staying on topic was an issue for both men throughout the evening.
There were Russian proverbs.
And octopus metaphors.
"That Mexican thing."
And of course, the cyber made an appearance.
It was truly thrilling (and confusing) to watch.
And then, it was time to wrap things up.
In short, here's what you missed if you didn't tune in.
And here's a very official breakdown of who won the night. Congrats if you were a winner.