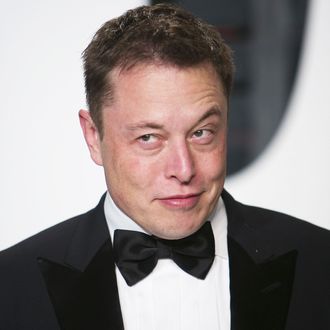 Photo: ADRIAN SANCHEZ-GONZALEZ/AFP/Getty Images
As of today, SpaceX and Tesla CEO Elon Musk (the man who wants us to pay $200,000 each to head out on a probably fatal trip to colonize Mars) follows only one woman on Twitter. That number is up from zero, which was exactly how many women Musk followed before Motherboard publicly put him on blast yesterday. (Musk, for his part, says he uses Twitter for "news orgs" and called out Motherboard for "phoney PC police axe-grinding.")
Whether or not the number of women a given male tech CEO follows on Twitter is an accurate gauge of his wokeness is, let's say, debatable, but a male-heavy Twitter list certainly makes for an impoverished experience of the social network. Elon Musk's followers count a handful of men (Ryan Reynolds, "Weird Al" Yankovic, and Elon's brother, Kimbal Musk, to name a few), several dozen news outlets and brand accounts, and GQ's Caity Weaver. (If you're going to pick one woman, that's the one: She's touched Kim Kardashian's boob.) That's an excellent start, but obviously, Weaver's Twitter is not the end of the female internet. So to help Musk out, we've compiled a starter list of some other women to follow on Twiter, from engineers to journalists to comedians. This is by no means an exhaustive list (particularly given that my editor shot down my idea to just list my Twitter handle 17 times and publish this piece), but multiplanetary feminism has to start somewhere, right Elon?
Kara Swisher: The Recode co-founder offers frequent tech commentary that doesn't beat around the bush. (Also Recode writes about Tesla and SpaceX pretty frequently, so this just seems logical.)
Aminatou Sow: Sow is a co-host of the podcast Call Your Girlfriend and also the founder of @TechLadyMafia, a digital support network for women on the internet. One time she called Elon Musk "kind of funny," and if that's not good enough reason for a follow I don't know what is.
Cher: The woman who has made us all question if there really can be life after love has some of the best emoji game on the World Wide Web. (Carrie Fisher of Star Wars fame is also something of a pictograph wiz, if you're looking for more.)
Kimberly Bryant: Bryant is the founder of @BlackGirlsCode, an organization devoted to getting more young women of color involved in STEM. Expect lots of tweets about the importance of disrupting the tech industry.
Megan Amram: Amram is a woman who is, stay with me here, very funny. (I know! Women making good jokes! Try to wrap your mind around it!) When she's not firing off good tweets, the comedian has written for shows like Parks and Recreation and Silicon Valley.
Isis Anchalee: Anchalee made headlines back in 2015 after a billboard featuring her picture sparked the hashtag #ILookLikeAnEngineer. Today she's a software engineer for Uber and a vocal advocate for women in tech.
Miss Piggy: She's the best muppet. Enough said.
Christiane Amanpour: As CNN's chief international correspondent, Amanpour's Twitter account is a great one-stop shop for all your world news served up by one of the top people in the business.
Leslie Jones: Jones is the best Ghostbuster on Twitter. (Sorry, Melissa McCarthy, but you know it's true.) Her live-tweeting of the Olympics this summer was more entertaining than the actual sports and her stream-of-consciousness tweets are often laugh-out-loud funny.
Ellen Pao: The former Reddit CEO is well known for the failed gender-discrimination lawsuit she filed against venture-capital firm Kleiner, Perkins back in 2012. Today, she's working with Project Include.
J.K. Rowling: The Harry Potter creator is an excellent Twitter follow if only for the fact that she never stops tweeting. Seriously. International politics? Rowling will tweet. Questions on Potter and his pals? Rowling will tweet. Somebody just generally being an ass? You better believe Rowling will tweet.
Megan Smith: Smith is the United States' chief technology officer, making her the highest-ranked woman in tech working for the government. A heavy user of the retweet function, Smith is the one to follow to keep up with what the Obama administration is up to when it comes to all things cyber.
Bozoma Saint John: The head of global consumer marketing at Apple Music, Saint John was the brilliant mind behind the greatest Apple commercial of all time and the only good part of this spring's WWDC.
Kris Jenner: Matriarch of one of the world's most famous families, she is one to follow if only to make sure you never miss an episode of Rob and Chyna.
Monica Lewinsky: Yes, that Monica Lewinsky. This side of that thing that happened in 1998 with Bill Clinton, Lewinsky has become a staunch activist against social-media bullying.
Tig Notaro: While Notaro herself never actually tweets, the comedian hands over the keys to her account to a different funny friend (please feel free to unfollow on the weeks where this friend happens to be a man) each week. Here's her take on Mars, Elon Musk's second favorite planet after Goddess Earth.
Maye Musk: As per her Twitter bio, Musk is a "registered dietitian-nutritionist," has "2 MS degrees," "10 grandkids," and worked as a "model for 5 decades." She is also Elon Musk's mother.
Follow your damn mother, Elon.