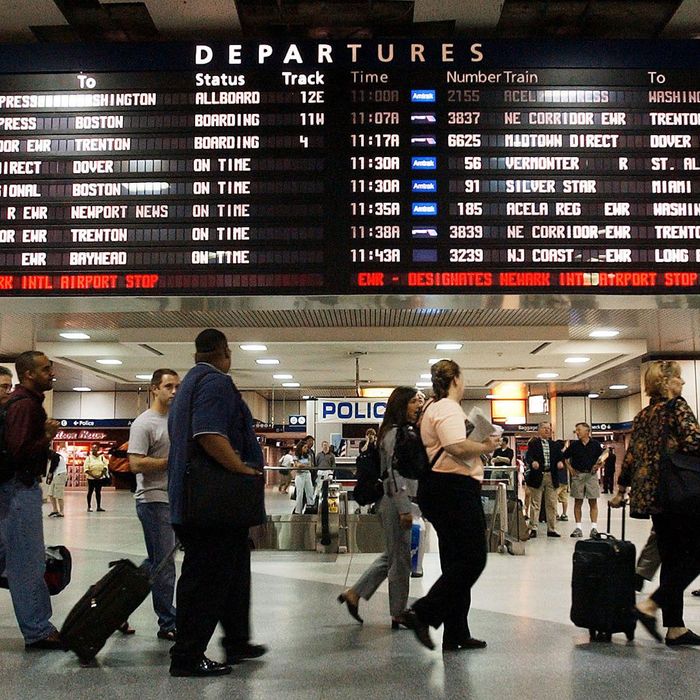 Photo: Stan Honda/AFP/Getty Images
The end has arrived for Penn Station's giant Amtrak departures board, which will soon be replaced by digital displays that promise more convenience and less tripping over people sitting on their suitcases than currently offered by the analog beast that currently occupies the center of the station's main hall.
"Strategic placement of the new displays, along with modification and eventual removal of some existing monitors — including the large train status board in the center of the concourse — provides customers access to the same information in various locations, allowing more efficient use of space in the main hall," Amtrak said in a statement on Wednesday.
The board will be replaced by 40 monitors throughout the station, including two large video walls on either end of the main concourse. Amtrak hopes this will reduce congestion in the center of the room and make the station easier to navigate.
The departures board that currently occupies a prime piece of Penn Station real estate was installed in 2000, replacing the click-clacks and flip-flaps of an old Solari board. The board has taken a beating in the past 16 years and is currently hampered by dulled lights and blank spots. Those who are not given to nostalgia will be happy to see it go.
Replacing the board is part of a $3 billion Penn Station renovation that will include turning the James A. Farley Post Office, which is across Eighth Avenue from Penn Station, into Moynihan Train Hall. Governor Cuomo has said the new complex should open in 2020 with large glass ceilings, airy concourses, and, yes, digital departure displays.