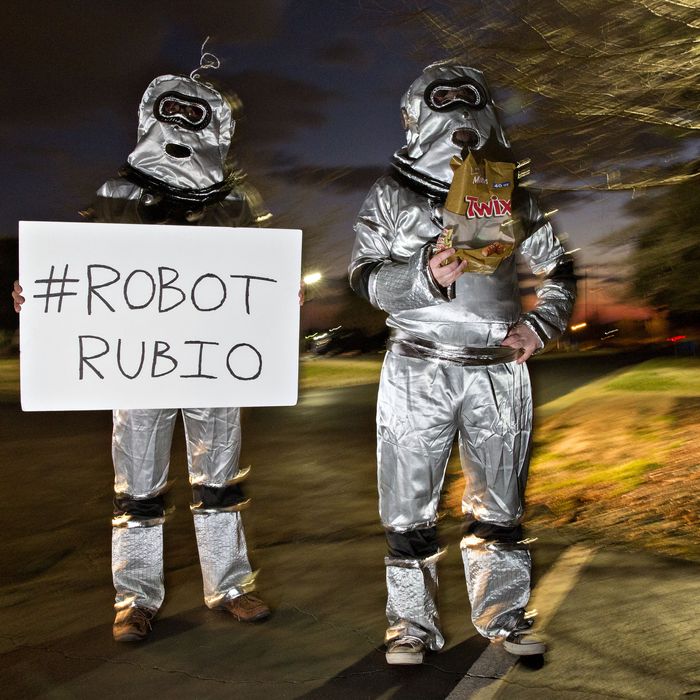 Protestors dressed as robots at a Marco Rubio event, a trend started by liberal activist Aaron Black.
Photo: Daniel Acker/Bloomberg via Getty Images
Aaron Black, the liberal activist and former Occupy Wall Street organizer who was caught on camera discussing his plans to disrupt Trump rallies, had previously co-ordinated with reporters from the right-wing news site Breitbart. According to Politico, Breitbart worked with Black to disrupt rallies for Donald Trump's opponents during the Republican primaries.
Sources at Breitbart have confirmed that they had a friendly relationship with Black, and explained that he would alert the site before he disrupted events for Republican nominees so that the site could cover him. Black sometimes even provided the news service with video of his antics.
In the most well-known incident, Black alerted Breitbart reporters that he had plans to attend a Marco Rubio rally dressed as a robot, an incident which Breitbart gleefully covered.
Breitbart was openly pro-Trump at the time, and in August, chair Stephen Bannon was hired as Trump's campaign CEO.

Speaking to Politico, a source confirmed that Black "worked directly with Breitbart's political team on the ground in the primary states to sabotage Marco Rubio and Ted Cruz, and elect Trump as nominee."
Black was recently caught on undercover camera appearing to discuss inciting violence at Trump rallies, and bragging about how he got Trump's rally in Chicago canceled. The videos were captured by Project Veritas, an outfit that captures secret recording of public figures, and the brainchild of conservative activist James O' Keefe. (Previous "stings" from Project Veritas were deceptively edited, and the recently released footage is incomplete.) The videos featuring Black have been seized upon by Trump and his supporters as an example of the lengths Hillary Clinton has been willing to go to to discredit Trump's political movement. In the video, Black claims to work for the Democratic National Committee, a role that the DNC denies.
Black's relationship with Breitbart appears to go beyond his simply using the site for free publicity. Black has also appeared on Breitbart's radio program and has been interviewed for its website.