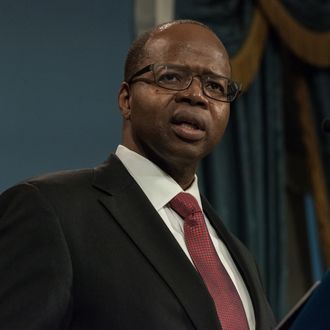 Ken Thompson.
Photo: Pacific Press/LightRocket via Getty Images
Ken Thompson, Brooklyn's first African-American district attorney, has died at the age of 50, just five days after he announced he had cancer and was taking a leave from work.
Thompson took up his post in 2014, beating Charles Hynes, who had been the district attorney for more than 20 years.
Before becoming a district attorney both as a former federal prosecutor and in his private practice, Thompson took on high-profile cases, including prosecuting a police officer in the 1997 assault of Abner Louima, and representing the maid who accused IMF leader Dominique Strauss-Kahn of sexual assault in 2011.
Thompson was an especially passionate advocate for the falsely imprisoned. Under his watch, in the last three years alone, 21 people who were wrongly convicted of serious crimes had their convictions overturned.
In his announcement last week, Thompson struck a hopeful and defiant tone. "As a man of intense faith, I intend to fight and win the battle against this disease," he said.
Thompson said his chief assistant, Eric Gonzalez, would serve as interim district attorney.

In a statement, New York Governor Andrew Cuomo described Thompson as "a lifelong New Yorker," who he said "was known as an effective, aggressive civil rights leader — and a national voice for criminal justice reform."