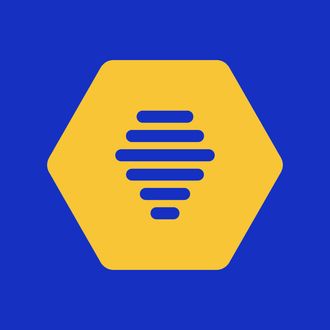 Back in March, Bumble — the dating app where women are required to send the first message — launched a secondary feature in which users can swipe to make platonic matches with potential friends. It's called Bumble BFF, and the app's founder, Whitney Wolfe, described the feature to Vogue as one "for girls in cities to find friends." (The feature is available for both men and women, but based on Wolfe's description and the BFF Instagram account's penchant for all things pink and traditionally feminine, it's pretty clear Bumble BFF is being heavily geared toward women.) "Once selected, you're shown all other people of the same gender who are also looking for BFFs," Bumble explains of the feature on its blog.
Except that, for women who date women, the app keeps mistakenly matching them with women who are only using the app to find female friends.
If you're currently using Bumble, you have a few swiping options to choose from in settings. Users can opt to be shown only men, only women, a combination of women and men, or they can opt for the BFF setting, which in theory shows only people of the same gender also looking for brunch buddies, drinking pals, or somebody who will see the revival of Cats with them. The app has binary options (dating or friend-finding), so you can't use it simultaneously to swipe for hookups and friends.
As a gay woman, I have my account set to display "Only Women," so my profile on Bumble shouldn't be shown to any women using BFF and I shouldn't be shown theirs. (Sorry ladies, but I'm not here to make friends.) Yet I keep matching with women who, it appears, are looking for female friends, rather than looking for female, well, friends. It's frustrating since queer women are already underserved in the dating/hookup app department. (There's really no ubiquitous app for LGBTQ women, as compared to Grindr for men.)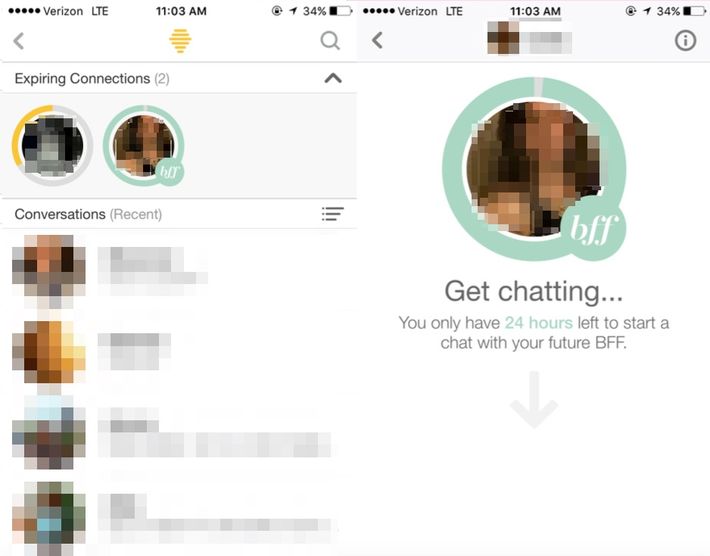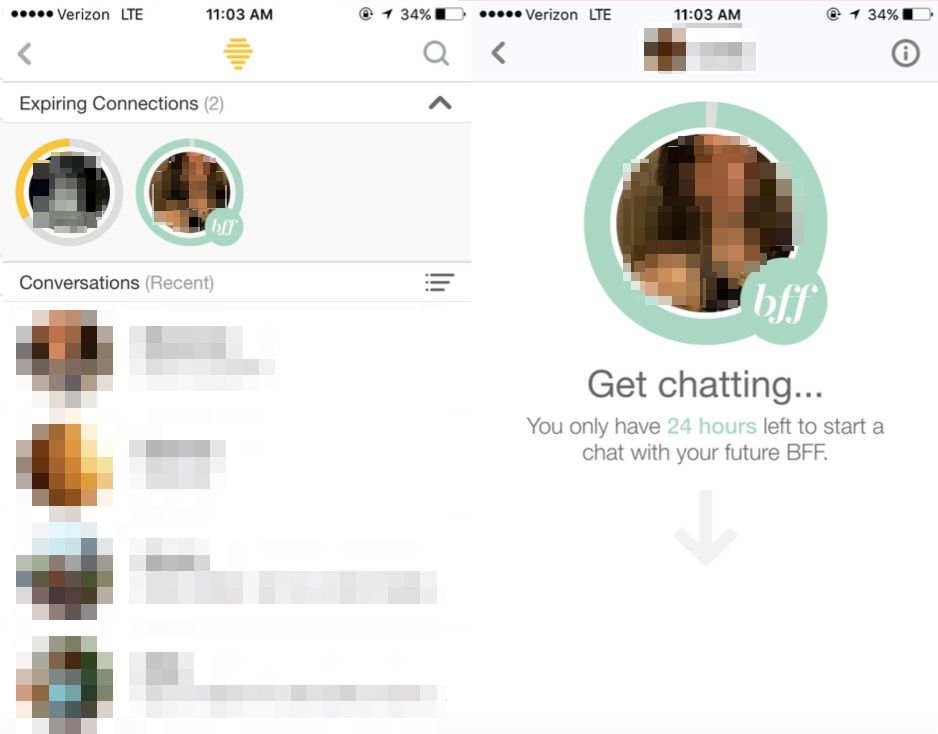 While potential hookup notifications are marked in yellow on Bumble, BFF matches are highlighted in mint green. That, plus the cursive "bff" logo and the notification prompting you to hurry up and start a conversation "with your future BFF" notification make them pretty hard to miss. Over the past few months, I've gotten several of these. And I'm not the only one. A 27-year-old queer woman from San Francisco told me that she's recently given up on using Bumble, but when she was on the app she received BFF matches despite her profile settings. "I would unmatch if that happened and was never sure why it did," she said.
In August, the Bumble app got an overhaul including new paid features. I wondered if the app update would fix the issue with BFF. It appears it didn't. A few weeks back, a former colleague sent me several screenshots of a BFF match notification she had just received. (Her profile is set to "Only Women," and she says she has never used the BFF feature and that her app is up-to-date.) She also said she often sees profiles of women whose bios describe looking for "friends" or "BFFs." (Worth noting: It's possible some of these women think they are using the feature, but did not change their profile settings to BFF.)
It's unclear whether this is a glitch or a larger technical oversight — or, maybe, both. When asked about the glitch, a Bumble representative told Select All that the company has "never received this complaint directly" and it is "currently looking into the issue." While Bumble welcomes users of all sexual orientations, the crux of the app's design (women messaging men first) is engineered around heterosexual power dynamics. It wouldn't be terribly shocking to find that the nuances of the types of potential relationships between women were just overlooked. Especially given that much of the dating-app scene doesn't fully acknowledge them anyway.
In many ways, the dating-app revolution has left LBGTQ women behind. Using Tinder means swiping through dozens and dozens of men who have lied about their gender to seek out queer women. Hinge initially launched without an option for users to seek both men and women. (This has since been changed, but I gave up on the app back in 2014.) The little-used Her is the only app designed exclusively for queer women that has at least $1 million in funding — but, as you might guess, it still isn't pervasive enough to mean you can give up its all-gender rivals.
Bumble can be great for queer women — but not if it's assuming that women looking for women are just as interested in finding girlfriends of one kind as they are in finding girlfriends of the other. There are so many moving parts ("when are you free," "uh, whenever works for you," "no really, I'm good with whenever") and awkward variables to meeting people on dating apps already — worrying about whether or not the woman you are messaging with is asking how your Wednesday is going because she's interested in you sexually or because she's just being friendly shouldn't be one of them. If I wanted to stress about that, I'd ditch dating apps altogether and go back to high school.