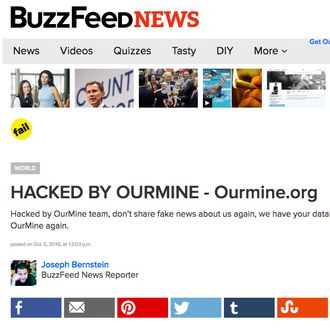 The hacker (or hackers) known as OurMine apparently infiltrated BuzzFeed's website and defaced several of the news outlet's stories this morning, after a story published yesterday on BuzzFeed identified a Saudi teenager named Ahmad Makki as a member of the hacking group.
OurMine has hacked a number of high-profile targets over the past few months, including the Twitter accounts of Mark Zuckerberg, Sundar Pichai, and Channing Tatum. It has also defaced articles on news sites like TechCrunch.
In a short, now-deleted post, OurMine threatened BuzzFeed, writing:
Hacked by OurMine team, don't share fake news about us again, we have your database.Next time it will be public. Don't fuck with OurMine again.
They also removed the post about the Saudi teenager. BuzzFeed said that it was working to restore the defaced articles.
On Twitter, tech reporter Joseph Bernstein, under whose byline the post appeared, wrote, "Never a dull moment."