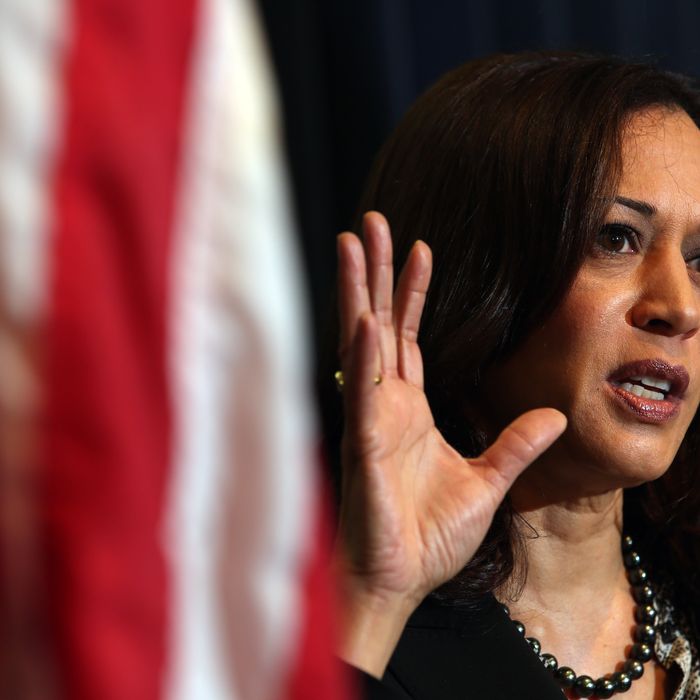 California attorney general Kamala D. Harris.
Photo: Irfan Khan/LA Times via Getty Images
Documents obtained by the Los Angeles Times on Wednesday have confirmed that the California Attorney General's office has begun a criminal investigation into Wells Fargo bank. In the documents, the attorney general alleges that the bank engaged in criminal identity theft.
The investigation — one of at least two criminal probes launched against the bank since last month — comes in the wake of a scandal that revealed bank employees would routinely open accounts or sign up for credit cards without their customers' permission in order to meet sales quotas.
Reporters first learned about the criminal investigation when a search warrant California attorney general Kamala Harris issued on October 5 came to light. It asked for the personal banking information of Wells Fargo customers who had "any accounts, credit cards, life insurance, or other product or service" opened without their express permission.
Harris has said that there is reason to believe that the bank committed felonies.
While the attorney general's office will not comment on the ongoing investigation, according to the Los Angeles Times, Wells Fargo spokesperson Mark Folk has said that the bank is "cooperating in providing the requested information."
Special Agent Supervisor James Hirt with the California Department of Justice has confirmed that interviews with victims of the bank's extralegal practices have already begun and have shined a light on the bank's behavior — including buying life insurance without permission, opening bank accounts after being given express instructions not to, and transferring money between customer accounts without notifying the account holders, leading in some cases to bounced checks.
The U.S. Consumer Financial Protection Bureau has already ordered Wells Fargo to pay $190 million in fines and settle civil suits springing from the more than 2 million customers who had accounts opened in their names without their knowledge. Nearly 5,300 Wells Fargo employees lost their jobs in the fallout from the scandal, and earlier this month, the bank's long-serving CEO John Stumpf was forced to step down.