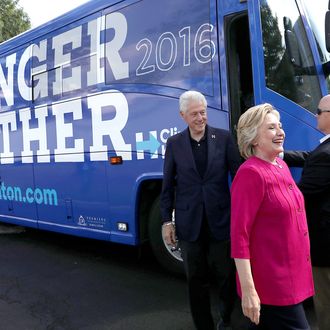 Photo: Justin Sullivan/Getty Images
The driver of a giant blue bus bearing the images of Hillary Clinton and Tim Kaine pulled over in front of an auto-parts store in Lawrenceville, Georgia, on Tuesday and emptied a tank full of human waste onto the street and into a storm drain. It left behind quite a stench.
According to one local news report, when police arrived on the scene, the street was covered in toilet paper and the odor was noxious. Local hazmat crews braved the smell to clean up the dumping of dumps, and now Georgia's Environmental Protection Division is investigating.
The Democratic National Committee has issued an apology, calling the incident "an honest mistake."
"We were unaware of any possible violations and have already taken corrective action with the charter bus company to prevent this from happening again. Furthermore, the DNC will work with the Georgia Department of Natural Resources, as well as local and state officials to determine the best course of corrective action," a statement from the DNC said.