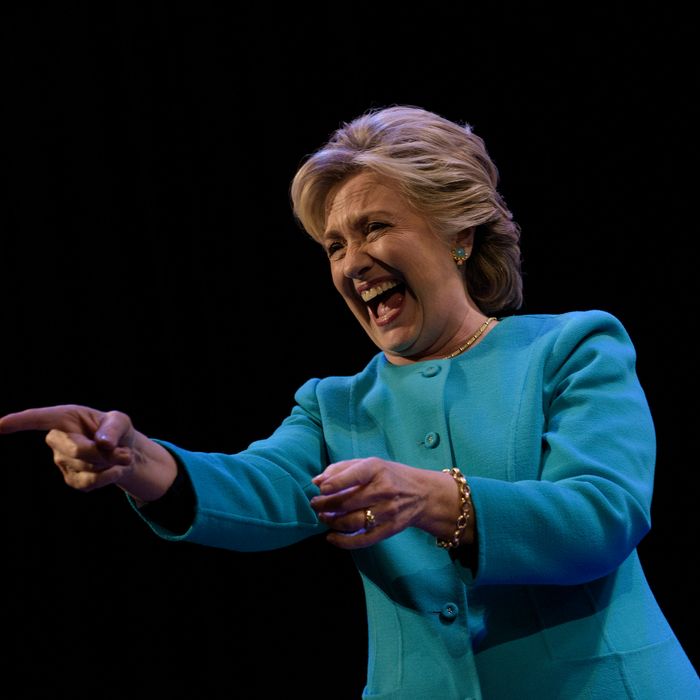 More good news for Hillary.
Photo: Brendan Smialowski/AFP/Getty Images
Another day, another bit of rough endorsement news for the Donald Trump campaign. It must not have come as any surprise when the newspaper of Hillary Clinton's alma mater Wellesley College, The Wellesley News, threw its endorsement behind Clinton. But, it couldn't have been easy for Trump to read that The Daily Pennsylvanian, the paper from Trump's own University of Pennsylvania, decided to follow suit. Both schools released their endorsements of Clinton in a joint statement on Tuesday.
While Trump has often used his time at Wharton to burnish his business acumen — "I went to the Wharton School of Finance … I'm, like, a really smart person" is in fact a real quote — his love for the venerable institution was not always reciprocated.
The University of Pennsylvania has long been a venue of anti-Trump demonstration, and when a petition went around saying that Trump "does not represent us" and expressed disgust that "that an affiliation with our school is being used to legitimize prejudice and intolerance" it got more than 3,800 signatures — and not just from current students but from graduates and family members as well.
Even without the Wellesley News, it would have been a big day for Hillary Clinton endorsements. The presidential nominee just recieved what millions so fruitlessly seek: approval from Anna Wintour via an endorsement from Vogue.
Finally, Clinton capped everything off with a letter of endorsement as exalted in its language as it was in its signatories. In an open letter, 70 separate Nobel laureates pledged their support for Clinton, not only saying that they prefer her as a president, but — without ever even mentioning Trump by name — managing to paint a Clinton defeat as a threat to science, democracy, and global freedom.
Lest you think Clinton will ever be able to climb out from Obama's shadow, the current president garnered the endorsements of a full 76 Nobel winners in 2012.