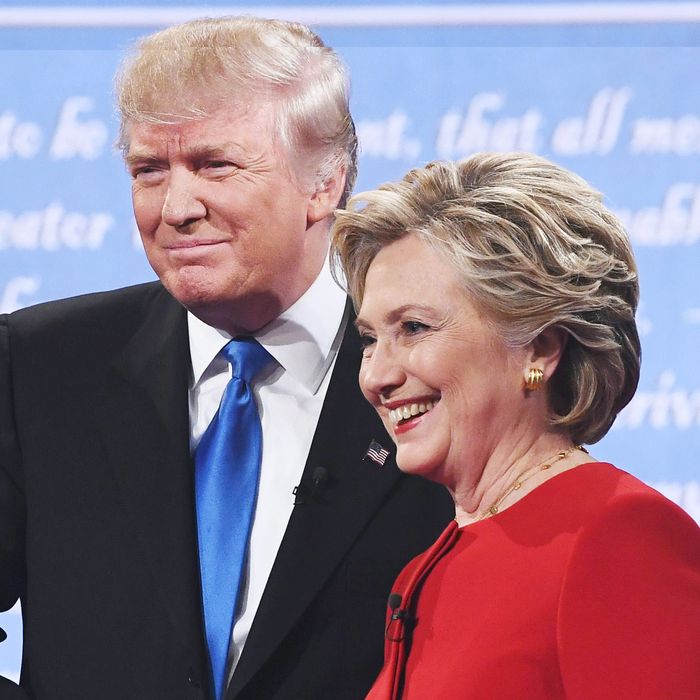 Maybe it was the Hofstra debate, maybe something else, but Hillary Clinton's back on top.
Photo: JEWEL SAMAD/AFP/Getty Images
With the release of a batch of new national polls Monday and Tuesday, it is now safe to say Hillary Clinton has rebuilt the small but steady lead she had over Donald Trump in early September. You can attribute it to the debate at Hofstra, or to the "bad week" Trump had in the ensuing days when he went all Mr. Hyde pretty heavily — it really does not matter. That moment when Trump seemed to be moving into the lead, to the shock of Democrats and the horror of financial markets and mainstream media, has abated.
Clinton has led in all nine four-way national polls that were in the field after the debates, including three iterations of Rasmussen's tracking poll. Her lead in the RealClearPolitics polling averages in a four-way race is back up to 3.7 percent, a bit more than double its size the day before the debate. In two-way trial heats, the picture is the same, though Trump does continue to enjoy a steady 3- to 4-point lead in the USC/L.A. Times tracking poll, which has showed him continuously leading since September 12.
There hasn't been quite a luxurious volume of battleground-state polls in the last week, but those we have similarly indicate a small but significant Clinton "bounce." Nate Silver calculates that she's led in 18 of 20 post-debate battleground-state polls, including surveys of states (e.g., Pennsylvania, North Carolina, Virginia, and Colorado) where she had been slipping (a Quinnipiac poll of Ohio is the only one showing her actually behind). Election forecasts have, unsurprisingly, been more bullish on Clinton since the debate; her win probability is up to 72 percent at FiveThirtyEight, 78 percent at the Upshot, and 80 percent at the betting-market aggregator PredictWise.
All in all, and for whatever reason, Clinton has reassumed a lead highly reminiscent of where Barack Obama ultimately wound up against Mitt Romney in 2012. Aside from the debate and Trump's "bad week," Clinton is benefiting at the margins from a slow but steady decline in the minor-party vote; Johnson and Stein were drawing a combined 11.9 percent of the vote three weeks ago, according to RealClearPolitics; they are now down to below 10 percent most days. And these trends are separate from whatever intangible x-factor you assign to Clinton thanks to her advantages in paid media, field operations, and voter targeting.
Nate Cohn looks at all of the data and discerns a distinct boost in enthusiasm for Clinton among nonwhite voters, which is helping her in sunbelt states like Nevada, North Carolina, and, most crucially, Florida, the state without which Trump almost certainly cannot win. He concludes Clinton is clearly ahead, but Trump is still in "striking distance." Nate Silver assesses the race according to the precedents:
If Trump manages to keep his deficit to 3 or 4 points heading into the second presidential debate on Sunday, his probability of a comeback will be a lot better than if he's down by something like 5 or 6 points instead. In recent elections, we've seen several shifts of 3 or 4 points late in the race, but not many of a larger magnitude than that.
So for those who fear or hate Trump, perhaps the best way to put it is that the wolf is still at the door, and you can still hear him howl in rage and frustration. But so far the deadbolt is intact, and time's running out for the beast to figure out a way to get in.