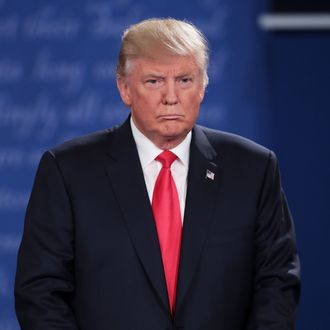 Surely not the first time he's heard that.
Photo: Scott Olson/Getty Images
Watching Sunday's debate was an often emotional experience and as usual many turned to Twitter to vent their frustrations. Now in the lonely, dark post-debate night at least one of those angry tweeters is regretting their actions: Hillary Clinton's foreign-policy spokesman Jesse Lehrich.
After hearing Donald Trump's response to his attacks on the Khans, a Muslim gold-star family that has become a favorite target of Trump's ire, Lehrich didn't mince words, telling the presidential candidate to "go fuck himself."
Lehrich did quickly apologize in a separate tweet:
What got him so upset in the first place? During the debate, Clinton castigated Trump for his treatment of the Khans, reminding him that their son, Humayun Khan, had made the ultimate sacrifice in Iraq.
Trump had his response ready, replying that if he had been president then Humayun might still be alive.
In the past, Trump's camp tried to blame Clinton and the Obama administration for Humayun's death, despite the fact that he was killed in 2004, four years before Obama entered the White House and five years before Clinton became secretary of State.